Our earlier post suggesting a baker's dozen of alternative titles for The Hobbit: There And Back Again proved quite the hit.
And because so many of you tossed in even more brilliant suggestions, we thought we might as well do a sequel.
Studios do it, so why not us?
So without further ado, here are another 13 options — including the seemingly compulsory Electric Boogaloo — to replace There And Back Again. Just for funsies.
Bootnote: We also loved Breaking Bard as suggested by Eol and many others, Game of Dwarves from arthum, Weekend at Beornies by Blade Runner, Bilbo and his Amazing Technicolour Arkenstone from Legolas Cuthalion plus the following hilarious poster for Bilbo and Thorin's Bogus Journey by Fotwuny.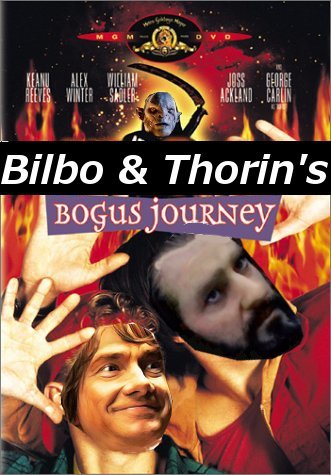 Credit goes to Gwydion Madawc for Exit the Dragon, and the inspiration for The Eagles Have Landed, and Bard Strikes Back. Many apologies if I missed anyone — not deliberate!
By the way, if you missed our original spy report that sparked all the title change speculation, you can read it here.