Welcome to our latest "Getting to know" questions that need answering. This month we're talking to the one and only Balrog Showgirl, Nicole Roberts.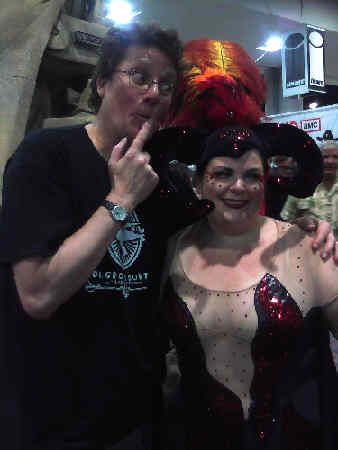 Hi Nicole and a very big thank you for taking part and for being so patient with me.
This first question is from Rosie-with-the-ribbons who's latest costume for RingCon has been inspired by your Balrog Showgirl costume.
R-w-t-r: Do you make your costumes yourself?
Nicole: Rosie – that is awesome!  Yes, for the most part the costumes I've been running around in for the past several years have all been of my own making.  I only started sewing back in 2004, after I moved to Los Angeles and started hanging out with even more LOTR people.  The first costume I made was to wear to Comic Con that year – I was the Mumak Mahud (the guy with the black and white painted face who steers the oliphaunt in ROTK), so you could definitely say I've always leaned towards costumes that were a little off the beaten path!  I've done some costumes that were direct recreations ("Barf" from "Spaceballs"is the most well-known one), but as I've gotten more into the sewing, I really like doing things that are more of an original design, like the Balrog Showgirl.  As someone who is not of supermodel proportions (and seriously, those chicks look like scary walking lollipops anyway), I like to have the opportunity to design something that I think is more flattering to me, and I always like to learn how to do something new, like dyeing feathers for the showgirl headdress.
Me: How was Comic Con?  What were your highlights and lowlights?
Nicole: Comic Con was amazing as ever!  This was my ninth year attending, and it's changed a lot in that time, but it's still an incredible opportunity.  The only real low point this year was that I had to leave about 15 minutes into the Hobbit panel on the Saturday to go to a rehearsal for the Masquerade, but I still got to see some amazing footage, cheer for PJ, and we went on to win Best in Show in the Masquerade competition that night, so not too bad!  Other high points were picking a fight with TORn's Ostadan at their panel on the Thursday morning over a point of Tolkien and folklore canon – I'm still hoping Quickbeam will get him to agree to come on the TORn Tuesday webcast with me to finish the discussion!  Also, I always love visiting the Weta booth, and this year it was spectacular to stand in the shadow of the giant trolls!  Always consider it a privilege to get a chance to chat with Richard Taylor, David Tremont, Daniel Falconer and Greg Broadmore.  This year I picked up a copy of "Triumph!" the new Dr Grordbort book, and Greg signed it and drew a Grordbort sketch in it for me.
Me: You won a tour to NZ with your costume of the Balrog, how was it?
Nicole: This was an incredible privilege!  Even more than just winning the trip was the fact that I was competing against some absolutely gorgeous costumes, and Richard Taylor and Daniel Falconer picked my crazy Balrog Showgirl because they appreciated the creativity and originality.  These are the guys that absolutely inspire me, so to have them choose my costume as their favourite was the highest honour I could hope for.  The trip was amazing!  I was lucky enough to get to bring my sister with me as my "Plus One," and we had a fantastic time.  They really rolled out the red carpet for us, and everyone was so nice.  Really want to thank Tim Launder at Weta for being the one to make all the arrangements.  Seeing the Hobbiton set all decked out from filming was so gorgeous and incredible, and I had a blast visiting filming locations in Wellington and Queenstown.
One of the coolest things was that on the day I visited Weta, artist Craig Campbell was doing a live sculpting demonstration in the Weta Cave, and he actually let me help out.  I got to work on a thigh, lol, as he sculpted a robot fighting a centaur.  Another amazing opportunity was when they hosted us for dinner at the Roxy Theatre in Miramar.  A number of the Weta execs have contributed to the rehabilitation of this classic theatre into a gorgeous Art Deco movie palace featuring both antique fixtures and new pieces created by the Weta artists, like bronzes and paintings by Craig Campbell and an unbelievable ceiling mural by Greg Broadmore.  We got to dine surrounded by Greg's oil paintings of Dr Grordbort characters.  Oh, and of course I brought at least parts of the winning costume with me, so the picture of Daniel Falconer wearing the rhinestone-bedecked Balrog headdress is one of my very favourite souvenirs!
My favourite non-LOTR thing in New Zealand was seeing the Colossal Squid at Te Papa in Wellington.  I have a thing about squid – I just started a Facebook page called "Cephalopocalypse".
Also, because of the contest wine, I was contacted to be the costume manager/coordinator/wrangler/miracle worker for a parody video production called "Todd of the Rings" written by and starring Anime voice actor Vic Mignogna, I contacted LOTR costumers all over the country and convinced them to loan us their creations, made a few things, faked a few things, and pinned a lot of stuff together with safety pins!  TORn staffer Quickbeam plays Gandalf, and I even got to do a little "cameo" doing the whispered elvish during the prologue, Todd of the Rings
 Me: What other costumes do you have?  And where do you wear them?
Nicole:  The costumes just seem to keep multiplying!  The Balrog Showgirl was part of a Comic Con Masquerade group entry called "Viva Las Villains", and we won Best in Show that year. I've done the Masquerade for seven of the nine years I've gone to Comic Con, so those tend to be my most elaborate costumes.  I've been fortunate to have been a part of groups that have  won Best in Show three times, Best Presentation twice, Judges Choice once and Most Humorous once.  I've been Friar Carl from Van Helsing, Barf from Spaceballs, the Perfume Girl from the Wizard of Oz, Ursula from The Little Mermaid, the Balrog, Harley Quinn from Batman, and this year I was a fashion-forward version of R2D2 from Star Wars.  Our group did a presentation called "Project Runway: All Star Wars".
I also have an array of various Pirate, Renaissance and Middle Eastern outfits hanging around in my closet, I've dabbled in a bit of Star Trek, and I was part of a Steampunk Roller Derby team called the Steamrollers with a character called "Malice in Wonderland".  One of the great things about living in LA is that there are always *some* kind of crazy theme event going on that give you an opportunity to dress up!  I had a friend say to me once, "I refuse to believe that there's a costume party *every* weekend!" To which I replied, "You don't know me at ALL, do you?!?" There are parties and club nights and big events like the Labyrinth of Jareth, the Edwardian Ball, and the Renaissance Faire going on *all* the time!
Me: How did you come up with the idea of the Balrog Showgirl?  Did she make a reappearance at this years Comic Con?
Nicole: As I mentioned above, the Balrog was part of "Viva Las Villains" at the 2010 Comic Con Masquerade.  My friend Cordelia Willis (formerly of The One Ring Circus) had the idea to do Vegas Showgirl costumes using all different "evil" characters.  We had characters from a wide array of sources from comics to video games, and of course I wanted to see LOTR represented!  I loved the idea of creating flames with dyed ostrich plumes.  It was a lot of fun.  We ultimately had 11 showgirls, 2 Chippendale dancers and the Joker as Elvis.  It was quite the spectacular presentation! And yes, I wore the Balrog on the Thursday at Comic Con to TheOneRing's panel.  This is the first time I actually had a couple of people recognise that it was a Balrog without me having to explain the whole concept, which was fun!
Me:  How did you get "introduced" to Tolkien – movies or books, and if books, which ones and in which order?  What was your very first impression of the Balrog?  And who is your favourite character?
Nicole: Book!  LOTR and the Hobbit were my mom's favourite books when I was growing up, so I was raised with Bilbo and Frodo on the brain.  I was also a big fan of Peter Jackson's previous films, so when I heard he was working on the ultimate LOTR film project, I was really excited.  I got involved in the online fan community as early as maybe 2000 on both the "Official Fan Club" message boards and TheOneRing.net.  The Balrog mostly captured my imagination in the film version – it was just so incredible!  The way the theatre shook with his every step, and you could practically feel the heat from the flames! So I became Rasputin the Evil Balrog pretty early on in my online incarnations.  We used to joke that a Balrog would need a flame-proof horse, so we'd yell, "Noro lim, Asbestos! Noro lim!" As for characters, I've always been rather partial to Merry in the books, but in the film, I really love Theoden – I think he has the most well-developed, 3-dimensional character arc, especially with some of the extra bits in the extended editions.  This is a bit different to Tolkien's characters who were much more archetypal and less "human", as he was trying to create a more traditional mythology – something I'll be happy to take up in my discussion with Ostadan!
Me:  You've been given a Middle-earth time machine.  Which one event would you go back in time and see, and why?
Nicole:  Crickhollow bathing scene!  Nekkid hobbits, FTW!  Lol, actually, I'd probably love to go back to the night in The Hobbit when all the Elves of Mirkwood are having their big drunken party that allows the dwarves to escape.  I think too many people try to make out that the Elves are all stately and sober and boring and mystical all the time.  They forget that even in Rivendell they're hanging out in trees and singing what almost equates to dirty limericks!  Just because you're immortal and beautiful doesn't mean you have to be a No-Fun Jones!  I paraphrase, but I believe Tolkien said something to the effect that the world would be a better place if more people valued the kind of simple pleasures that the Hobbits are most known for.
I just wanted to finish with, that before I moved to California, I founded Rings on the Range, the Fellowship of Texas Ringers, and my peeps in Austin still have a regular LOTR meetup every month!  They were a major part of the "Fandalf" project.
Thank you Nicole for sharing your photos and experiences with us all, it's been a real delight talking to you.
Once again a big thank you to our Message Board regulars, Rosie-with-the-ribbons, zarabia, DanielLB and dernwyn for the questions we used this month.
If you'd like to ask any questions yourself, just head over to our Message Boards, the sign up process is mostly painless 😉  A lead post requesting questions is made at the beginning of each month.
Till next time, from TORn's resident tiger
Kelvarhin