'The Hobbit' in 2010!
September 21, 2010

at

11:00 am by Ostadan -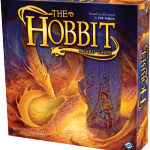 No, no, not the film — it's a new boardgame by Dr. Reiner Knizia, who designed the recently-republished 'Lord of the Rings' cooperative boardgame and many other excellent titles.  Fantasy Flight Games has announced this for 'Winter 2010'.  Some time back, Knizia indicated that, like the book, this will be a lighter title than 'Lord of the Rings' and playable by younger players and non-gamers. 2-5 players represent dwarves who accompany Bilbo on his journey; the goal is to end the game with the most loot!
With the forthcoming cooperative LotR card game and the new edition of the older Knizia LotR co-op (and a likely new edition of the big-box War of the Ring wargame next year), and now this new product, Fantasy Flight is keeping their Tolkien line very much alive.  In any case, this game can keep us occupied on those long Yule nights while waiting for news about a Hobbit movie.
Learn more at the Fantasy Flight Games website. [Click Here]
[disclaimer – I (Ostadan) have nothing to do with FFG, but think they've done a fine job in their handling of the Tolkien game license, unlike some other companies I could mention…]
Posted in Fans, Gaming, Merchandise, Miscellaneous, Other Merchandise, The Hobbit, Toys on September 21, 2010 by Ostadan Source: Fantasy Flight Games 'The Hobbit' in 2010! | Discuss