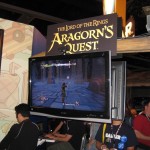 Hi all, Xoanon here with extremely sore feet! Today I decided to tour the entire con and shoot some gameplay footage and take pics of all the con-goers.
My first stop of the morning was the 'Aragorn's Quest' kiosk. Slotted directly behind the massive 'War in the North' booth, AQ had 2 systems setup, one on the Wii and the other with PS3's new motion sensor system. Having very little experience with either I was able to pickup the intricacies of the gameplay very very quickly. 'Aragorn's Quest' is told in the past tense by Sam the Hobbit, he is retelling Aragorn's biggest battles and adventures to his children. Because of it's family friendly play style, character are not seen as 'dying', once a character has lost all health points, Sam simply re-adjusts his storylines to suit his needs, a very small, but very endearing change to the usual hack and slash games we've seen for years.
I then headed over to the Lord of the Rings Online booth across the convention hall. I met with LOTRO Producer Aaron Cambell who sat down with me and showed me some of the awesome new worlds and features of LOTRO. Set to go free-to-play in less than a week, the Turbine folks are truly very excited about the future prospects of LOTRO. Aaron gave me a brief insight into just how important fan reaction and feedback is to them. After spending 2 days with the great Turbine folks I have to echo their sentiment when they say 'it is a great time to be a Turbine employee right now'.
Take a look at some of the various con pics from Saturday, tomorrow I am attending a special WB 'Second Breakfast' event where I plan on doing some on camera interviews with the dev team. If you have any questions for them, send them to me at xoanon@theonering.net