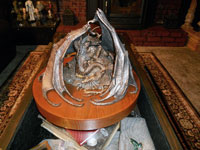 See collectors' own photos of Smaug the Golden: Smaug the Golden is now shipping in the US (and will be shortly in the rest of the world – see bottom of this email). The Weta Collectors on the forum (our most discerning customers) have some very nice things to say about it. Start reading at about page 25 (23 July) when the first few were opened by expectant fans. Like the one on the right, by N2Darkness on the forum.
Work to begin on Rivendell environment from The Lord Of The Rings: We will shortly be starting the sculpting and modelmaking work on one of the more iconic locations from the Lord Of The Rings – Rivendell. Home to Elrond and Arwen and the place where Aragorn was raised. We of course have the original miniatures that Weta's artists built for the movies, so we're not short of reference material. The discussions are already running hot on the forum in anticipation – join them! It's free, it's easy and they're a very friendly bunch who welcome newcomers with open arms.
Photos from Comic-Con on our Facebook page: The ever-reliable David Tremont and Ri Streeter along with Shadow and Flame Centurion Charles Song have continually supplied us with great photos of fans and friends at Comic-Con. Have a look!