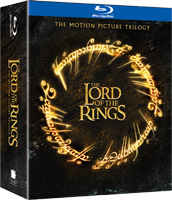 TheOneRing.net and Warner Brothers are teaming up to celebrate the release of The Lord Of The Rings Motion Picture Trilogy on Blu Ray, April 6th 2010!
From now until April 13th 2010, we will be giving you the opportunity to win some amazing prizes, including the grand prize of a Lord of the Rings Middle-earth Treasure Chest Jewelry Box, worth nearly $200!
You will be also be competing for a Sterling Silver Arwen Evenstar Pendant, Sterling Silver Elven Leaf Brooch, and over thirty other great LOTR themed prizes!
How to Enter: This giveaway will be hosted on the Official TheOneRing.net Forums! All you have to do to enter is reply to this giveaway thread with your favorite scene in The Lord of the Rings and give us a small explanation of why that is your favorite scene. All winners will be randomly chosen from all replies to the thread.