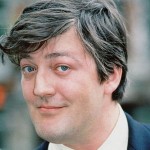 Stephen Fry's name has long been bandied about by fans as a possible and worthy choice to play a Dwarf in the upcoming two-movie film project "The Hobbit." Today, spy "Dave" sent in a bit from the Twitterverse that leads us to think Jackson's team and the project's director Guillermo del Toro may be thinking the say way.
Fry says on his own Twitter account, "Seen Peter Jackson and Fran Walsh who are well & cheerful but jetlagged. My address . . . is in 20 mins. Then the film…". Fry is doing some charity work with the premiere of Jackson's The Lovely Bones and said in an earlier Twee that he needed to write a 'speechlet' for the event. Clearly the two camps have spoken and for what it is worth, Fry would be a casting home run and is the type of actor Jackson is known to choose for his films. (Easy to work with, high character).
Add his name to Brian Cox's as juicy casting rumors that make sense!