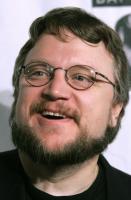 Guillermo Del Toro paid a visit to our message boards today to confirm that he will definitely be making a cameo appearance in The Hobbit as a small monster:
"I had a hand on the design of the creature and I will personally sculpt the appliances that will be applied on my face and hands. I used to sculpt the creatures for NECROPIA (my FX company) and I miss it a bit. I will have a line or two and die quickly."
His comments were in response to a discussion on our Hobbit Movie message board of a German interview about The Strain posted on YouTube, with some English audible and a comment or two about The Hobbit.  Guillermo is known for dropping in from time to time to join in the discussions, awarding us with tidbits about The Hobbit production, or simply how life in Middle-earth is treating him. Follow the link to read his comments and join in the discussion. Guillermo Del Toro Cameo..