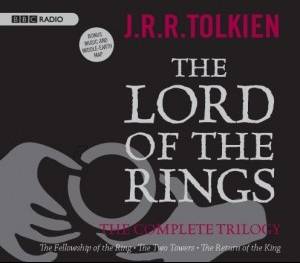 The world is excited.  I feel it in the water.  I smell it in the air.  For much that once was, is rereleased…
As the world of Tolkien fandom eagerly prepares for the coming of The Hobbit movie(s), the BBC is helping us to fill in our time by re-releasing its fabulous radio dramatization of The Lord of the Rings.
Originally broadcast in 1981, this production is almost as classic as the books themselves.  It is THE quintessential radio dramatization.  Brilliantly acted, with atmospheric music and clever sound effects, this series has not dated at all.  Brian Sibley expertly adapted Tolkien's writing into a script; narration is kept to a minimum and pacing is maintained through active dialogue, but at the same time as much as possible of Tolkien's original text is included.  Book fans will love hearing cherished, familiar lines, and movie fans will enjoy spotting dialogue which made it into both Peter Jackson's movies and this dramatization.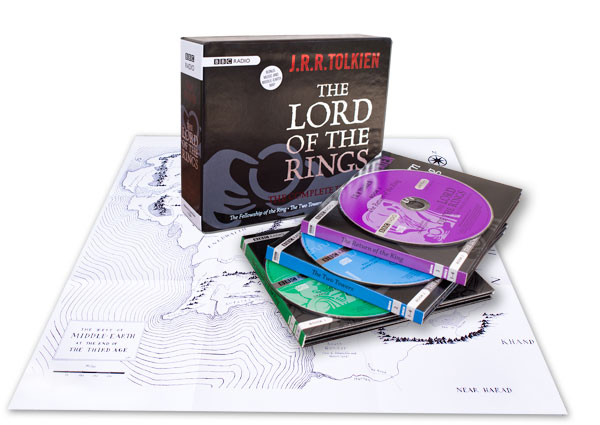 The cast includes beloved actor Ian Holm as Frodo; for those of us who know Sir Ian as Jackson's Bilbo, it is fun to hear him in an exuberant portrayal of the younger hobbit.  (I particularly enjoyed hearing his Frodo saying (of Bilbo), ' "I've left them for you, Frodo my lad," he used to say'.  Suddenly we have Sir Ian as Frodo, impersonating Bilbo – the mind boggles…)  Holm is as outstanding as you would expect.
Joining Sir Ian are Royal Shakespeare Company stalwarts such as Robert Stephens (a dynamic Aragorn) and Michael Hordern (superb as Gandalf).  This cast comes from the era when British actors were trained in diction, and it is wonderful to hear Tolkien's words so clearly enunciated.  (Some listeners may find the 'BBC diction' English a little stilted, but to my ear, it is perfect for Tolkien's carefully crafted words.  And fear not -Sam retains a suitably country accent!)
Having only obtained a copy of the dramatization a couple of days ago, (and being a new listener to this work!), so far I have only had the chance to listen in detail to The Fellowship of the Ring.  (The entire dramatization is thirteen hours long, spread over eleven CDs – which seems an incredible bargain at $49.95 for the whole set!)  For the most part I think the necessary cuts to the story are very well chosen, although Tom Bombadil fans are in for a disappointment – he and the barrow-wights aren't in this version either.  And poor old Fatty Bolger doesn't make the cut – but Glorfindel is in!  Among my favourite portrayals in Fellowship are Simon Cadell as a fabulously dignified Celeborn, and Michael Graham Cox as an impressive Boromir.  (Interestingly, Cox also voiced Boromir in Bakshi's LotR movie.)
My criticisms of what I have heard so far are few and far between.  The songs which are retained in the dramatization are largely spoken, which seems a pity when there is so much excellent, atmospheric music.  The black riders sound rather too human, whilst Merry and Pippin are a little too serious and slightly camp.  Their 'posh' voices are presumably intended to show their upper class status in the hobbit world, but I'd like them to be a little more robust.  Gollum, alas, sounds like a comedy Jewish stereotype.  I wasn't surprised to discover that actor Peter Woodthorpe is the voice of Gollum; Woodthorpe also provided the voice in Bakshi's movie.  I didn't find his interpretation any more successful in that film than I do in this radio production.
My minor dislikes aside – and what production could possibly match one's own imagination entirely? – this is an outstanding recording which is deservedly treasured by Tolkien fans everywhere.  I believe this dramatization was last reissued in 2002; so, what, you may be asking, is new this time around?  According to the press release, this latest version comes 'thoughtfully packaged in a handsome box set', and includes 'Bonus Map and music'; unfortunately, not having seen them, I can't comment on the packaging or the map.  In addition to the eleven discs of the series, there is a twelfth disc in this collection which is entirely music: this is the 'soundtrack album', also originally released in 1981, which includes songs and extended arrangements of the background music heard throughout the dramatization.  It's lovely to have this collection of the music included in the box set, but I'm not sure that this is anything new; I believe it was included in the 2002 release.
I am left wondering why there is a need for a new release.  If you have the 2002 edition of this series, then I don't think this version would add anything to your collection.  If, however, it's been a while since you've explored this excellent production, or if you've never yet listened to it, then this new release gives you the chance to remedy that.  I urge you to rush out and buy a copy!  I can't think why it's taken me so long to discover it for myself.  This box set really is amazing value for money and a superb piece to add to your Tolkien hoard.
For the time will soon come when hobbits will make the fortunes of many...  But meanwhile, get your Middle Earth fix with this fabulous, poetic and exciting rendition of this most wondrous of stories.
=========
Now on Sale – The Lord of the Rings, The Complete Trilogy.  12CDs, $49.95.  Includes bonus map and music. [Amazon.com]