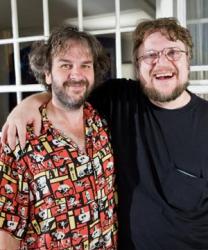 Variety and Stuff.co.nz are reporting that the deal is done, and fan-favorite director Guillermo del Toro will take on the 'Hobbit' films!
From Variety.com: [Full Story]
In a major step forward on "The Hobbit," Guillermo del Toro has signed on to direct the New Line-MGM tentpole and its sequel.
The widely expected announcement came Thursday afternoon jointly from exec producers Peter Jackson and Fran Walsh, New Line president Toby Emmerich and Mary Parent, the newly named chief of MGM's Worldwide Motion Picture Group.
Del Toro's moving to New Zealand for the next four years to work with Jackson and his Wingnut and WETA production teams. He'll direct the two films back to back, with the sequel which will deal with the 60-year period between "The Hobbit" and "The Fellowship of the Ring," the first of the "Lord of the Rings" trilogy.
New Line is overseeing development and will manage production. Both pics are being co-produced and co-financed by New Line Cinema and MGM, with Warner Bros. distributing domestically and MGM handling international.
From Stuff.co.nz: [Full Story] (Image above courtesy of Stuff.co.nz)
The official announcement was made in Hollywood by Lord of the Rings director Peter Jackson – who will co-produce The Hobbit – fellow producer Fran Walsh, and executives from New Line Cinema and MGM.
Jackson and Walsh said del Toro was "a genuine storyteller" of outstanding ability.
"A true original, Guillermo is a cinematic magician who has never lost his child-like sense of wonder. He understands that the fantastic must be grounded in the real and that all stories are only ever a reflection of ourselves," say Jackson and Walsh.
"We have long admired Guillermo's work and cannot think of a more inspired filmmaker to take the journey back to Middle-earth. We are delighted 'The Hobbit' is in such trustworthy hands."

Don't know what to do with yourself? Jump into the forums or into Barliman's chatroom to talk with Tolkien fans throughout the world! [Forum] [Barlimans Chat]