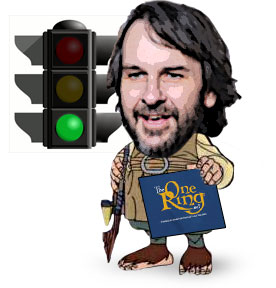 OSCAR WINNER PETER JACKSON TO DIRECT "THE HOBBIT" IN TWO INSTALLMENTS
Peter Jackson Set to Direct J.R.R Tolkien's "The Hobbit," In a Two-Part 3D Production of Extraordinary Scope

(Los Angeles, October 15, 2010) The two films based on "The Hobbit" are now greenlit and will begin principal photography in February 2011, under the direction of Peter Jackson, it was jointly announced today by Toby Emmerich, President and Chief Operating Officer, New Line Cinema, Alan Horn, President and Chief Operating Officer, Warner Bros. and Steve Cooper, co-Chief Executive Officer of Metro-Goldwyn-Mayer Inc..
"Exploring Tolkien's Middle-earth goes way beyond a normal film-making experience" Jackson says, "It's an all-immersive journey into a very special place of imagination, beauty and drama. We're looking forward to re-entering this wondrous world with Gandalf and Bilbo – and our friends at New Line Cinema, Warner Brothers and MGM".
"Peter is a filmmaker of incomparable ability; having him return to Middle-earth to produce and direct is a dream come true. A true original, Peter is a gifted story-teller, visionary director and pioneer in film technology," said Emmerich. "Reuniting with Peter, Fran and Philippa truly makes it feel like we are going 'there and back again.'"
"There is no human being on the planet as qualified as Peter Jackson to direct these films," said Horn. "Peter is incredibly talented and has the creative vision and experience to bring this beloved property to life in a way that no other filmmaker could. And the team of Fran Walsh and Philippa Boyens has proven through their work on the 'Lord of the Rings' trilogy that no one is more skilled at transforming Tolkien's written words into a vibrant, living language that makes the audience believe they are not merely visiting Middle-earth, but actually living in it. We couldn't be more thrilled and look forward to seeing 'The Hobbit' take shape under Peter's stewardship and the team he is putting together."
"MGM is excited to move forward and add to the successful 'Lord of the Rings' franchise," said Cooper. "Under Peter's direction, the films will undoubtedly appeal to fans of the original 'LOTR' trilogy and also bring the stories to a new generation of fans."
Jackson, who directed all three "Lord of the Rings" films, will helm the two films back-to-back, telling the story of "The Hobbit" in two parts. Jackson will utilize groundbreaking visual effects and his incomparable story-telling to bring J.R.R. Tolkien's novel to the big screen. Both Hobbit movies will be filmed in Digital 3-D, using the latest camera and stereo technology to create a high quality, comfortable viewing experience. Jackson also co-wrote the screenplays with Fran Walsh, Phillipa Boyens and Guillermo del Toro.
"The Hobbit" is being co-produced by New Line Cinema and MGM, with New Line managing production, Warner Bros Pictures handling domestic distribution and MGM distributing internationally. Peter Jackson, Fran Walsh and Carolynne Cunningham are producing the films, with Phillipa Boyens as co-producer and Ken Kamins as executive producer.
The Oscar-winning, critically acclaimed LOTR trilogy grossed nearly $3 billion worldwide at the box office. In 2003, "Return of the King" swept the Academy Awards, winning all of the 11 categories in which it was nominated, including Best Picture – the first ever Best Picture win for a fantasy film. The trilogy's production was also unprecedented at the time.
ABOUT NEW LINE CINEMA:
New Line Cinema continues to be one of the most successful independent film companies. For more than 40 years, its mission has been to produce innovative, popular, profitable entertainment in the best creative environment. A pioneer in franchise filmmaking, New Line produced the Oscar®-winning "The Lord of the Rings" trilogy, which is a landmark in the history of film franchises. New Line Cinema is a division of Warner Bros.
ABOUT PETER JACKSON/WINGNUT FILMS:
Peter Jackson is one of the world's most successful filmmakers. His monumental achievement co-writing, co-producing and directing The Lord of the Rings trilogy (with fellow Academy Award winners and frequent collaborators Fran Walsh and Philippa Boyens) earned a total of 30 Academy Award nominations and 17 Academy Awards. Jackson and Walsh received their first Oscar nomination for Best Original Screenplay for their acclaimed film Heavenly Creatures. Jackson, through his New Zealand-based Wingnut Films banner, also was responsible for the globally successful 2005 remake of King Kong which earned over $500 million worldwide and 3 Academy Awards. Jackson most recently directed the Academy Award nominated The Lovely Bones; an adaptation of the acclaimed best-selling novel by Alice Sebold, which to date has earned nearly $100 million worldwide; and produced the global sensation, District 9, which received an Academy Award nomination for Best Picture. He is also developing a trilogy of films with Steven Spielberg based on Tintin, the world renowned comic book series by Herge. In 2010 he received a Knighthood for his services to film.
ABOUT METRO-GOLDWYN-MAYER STUDIOS INC.
Metro-Goldwyn-Mayer Studios Inc. is actively engaged in the worldwide production and distribution of motion pictures, television programming, home video, interactive media, music, and licensed merchandise. The company owns the world's largest library of modern films, comprising around 4,100 titles. Operating units include Metro-Goldwyn-Mayer Studios Inc., Metro-Goldwyn-Mayer Pictures Inc., United Artists Films Inc., MGM Television Entertainment Inc., MGM Networks Inc., MGM Distribution Co., MGM International Television Distribution Inc., Metro-Goldwyn-Mayer Home Entertainment LLC, MGM ON STAGE, MGM Music, MGM Consumer Products and MGM Interactive. In addition, MGM has ownership interests in domestic and international TV channels reaching over 130 countries. For more information, visit www.mgm.com.