Varking Runesong here!
I was blessed enough to receive a PC and PS5 key to test The Lord of the Rings: Gollum early on behalf of TheOneRing.net. My goal here is to describe my play-through scenarios, what type of system I run the game on, what I liked, what wasn't for me, and ultimately… how much I actually enjoyed playing the game.
The Lord of the Rings: Gollum is developed by Daedalic Entertainment and is also published by them as well as Nacon. The game is available or will be available on multiple platforms such as Xbox, PlayStation, Nintendo Switch and PC. You will need to make sure your system is compatible and the game has released on it in order to play.
PC experience and PS5 performance experience
I play on a fairly high end gaming PC that was built about two years ago for over $2,000 USD. I also played the game on my PlayStation 5. Right off the bat I do have to tell you folks that while the game ran well for me on PC and I didn't encounter many bugs or anything game breaking, this was not my experience on PS5. And I prefer gaming on my PS5 as it's hooked up to a 65-inch OLED television and surround sound speakers.
On my PS5 I was able to play the game over the weekend and all throughout the first chapter of the game I encountered crashes. I would interact with objects and crash. I would try to skip some of the story by holding down circle on the PS5 controller to avoid crashing and I would still crash. It would reset my progress a decent bit and I would have to complete the same objectives multiple times waiting for a time where it actually finishes and I get the credit for it. I was playing the game with the higher graphics setting on and when I switched to performance mode and turned off the Gollum hair animation/physics it fixed the majority of the issues I was having.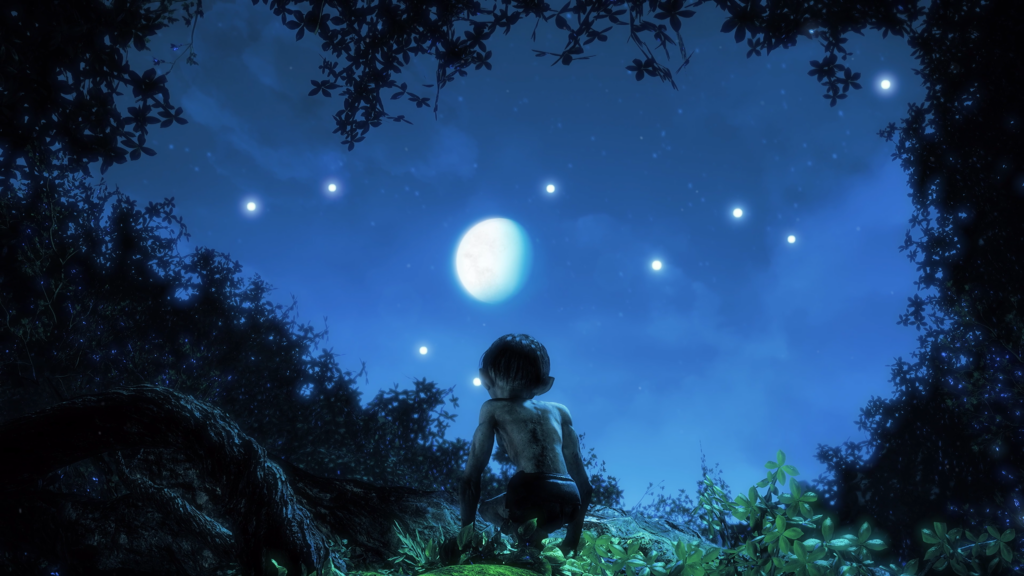 During the weekend we did receive an email update letting us know that the Gollum hair setting was the culprit and there would be a day one patch for the game to fix this before players started playing. This was great to hear. The rest of my play time went through Chapter 1 and Chapter 2 to completion. The only other bug I encountered was toward the end of Chapter 1 after a cutscene. Once it was done playing, I no longer had a cave or anything around me and any direction I chose to move Gollum I would fall about 1,000 feet to my death which did give me a chuckle. And it gave me an achievement!
Like an old-school Assassin's Creed
The game plays like an old-school Assassin's Creed with much less focus on combat. Gollum would rather knock an enemy over or choke them long enough to get away from them than try to actually fight most foes. You spend most of the game doing parkour, climbing over, crawling under and trying to remain unseen or undetected.
The buttons are easy to learn and I had no problems completing the tasks. There are items to collect on each map so sometimes you will want to play through multiple times if you are being a bit of a completionist. There are times where Gollum has dialogue choices. Sometimes the dialogue choices are in response to an NPC and other times it's Gollum trying to convince his other half to do something.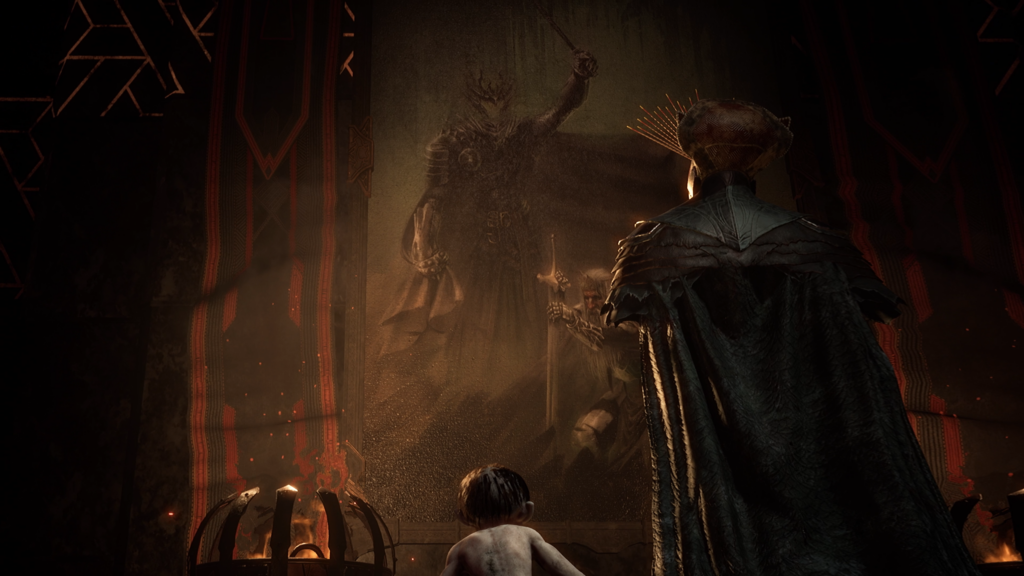 I didn't have time to find out, but I would love to know whether the story changes based on the decisions you make. If it does change parts of the story then I would probably play through each chapter to beat it, then to get all missing collectibles and achievements, and then again to make sure I got to experience the full story.
Present and past
On the story front, you see many characters, both friendly and foe, who you will know immediately. The game flashes back often, at least early on, between current day Gollum who is imprisoned for questioning, and the flashback Gollum who is sharing his side of the story of the events of what has happened to him during this period.
Fans of the books interested in playing the game will have a good idea of where the story intends to go immediately. Newer folks to the fandom might be taken on a nice joy ride where if this is an enjoyable experience for them they may find themselves more interested in picking up Tolkien's books to see what is says in there, and understand where Daedalic had the freedom to tell their story.
I know some lore purists will have issues with different parts of the story but I am open to adaptations and I honestly do have fun when playing the game when its not crashing.
I am looking forward to the Day 1 patch to continue my playthrough. The crashes were very frustrating and I think most folks can understand that. When the game wasn't crashing it was genuinely enjoyable for me.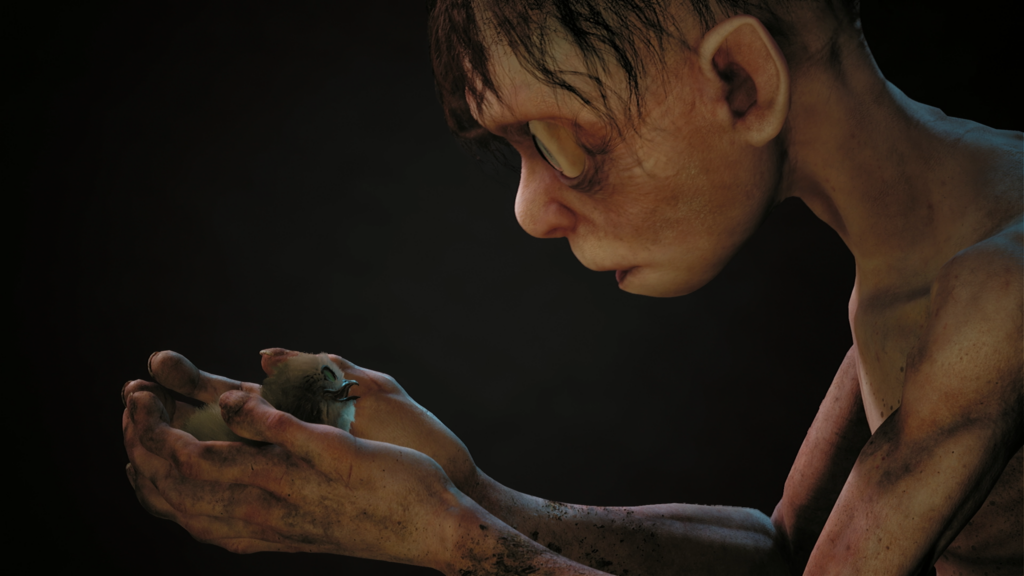 That being said I know most people won't read the full review. They just want a TL:DR and score, right?
In conclusion
TL:DR: The Lord of the Rings: Gollum is a fun game to me as a fan of the material that comes from Tolkien. I enjoyed playing the bits that I could play and while I am at work I do think about playing the game different ways when I get home. However, I did encounter one major bug and I experienced a series of major crashes early on related to a setting that I am told would be fixed on Day 1 of release. If that is the case I give the game a 7 out of 10.
When the game is playable I am definitely having fun. When it's crashing I want to pull my hair out to match Gollum.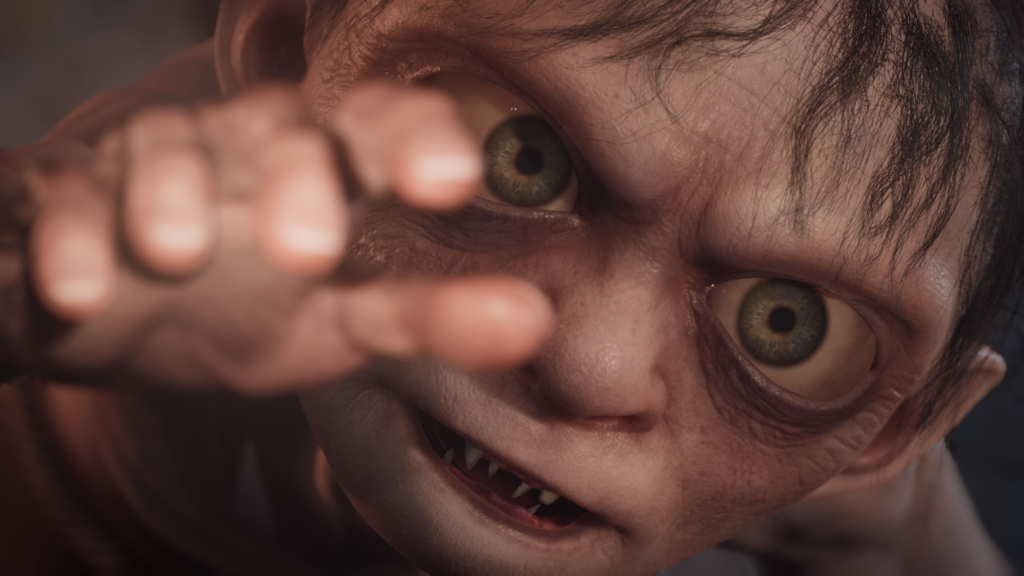 I would be buying this on day one regardless because I am a mark for all things Tolkien and Lord of the Rings but my advice to folks who are going to part with their hard-earned cash is wait for more reviews to come out after the day one patch and see if it fixed the issues that myself, and I am sure, others, will tell you about.
SCORE
When playable: 7/10 
If the Day 1 patch doesn't fix the crashing players might experience: 5/10 
About the author: Varking Runesong is the lead mod of the LOTR On Prime sub-reddit and a writer for Fellowship of Fans. You can often find him on the TORn Discord!