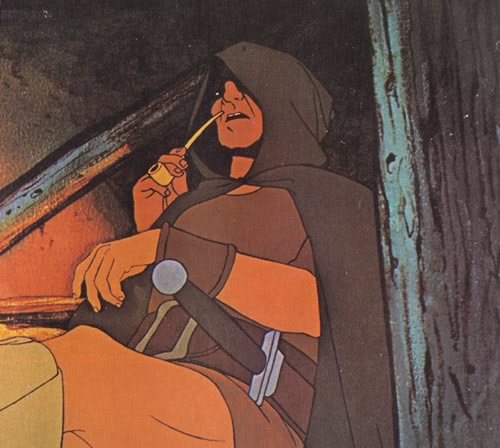 John Hurt, famous for a number of roles but unforgettable as the voice of Aragorn in Ralph Bakshi's "The Lord of the Rings," has died. He was 77.
For many who love Tolkien's works, the animated LOTR was the serious animated treatment of the masterpiece of J.R.R. Tolkien that was also frustrating because it was meant to have a sequel and was never properly finished. Hurt played Strider turned Aragorn as perhaps the most recognizable voice in the cast. Director Ralph Bakshi was left telling only part of the story but Hurt's Aragorn, was majestic and powerful.
Hurt shines in the voice role, playing a confident Aragorn, that before the live action LOTR films were announced, was for a generation, the embodiment of the hero who would return as King.
Hurt's career was long and plentiful with over 200 film credits to his name. He is best known for his outstanding turn as John Merrick, the title character in "The Elephant Man." Audiences not familiar with that Oscar-nominated performance as well as his also nominated work in "Midnight Express," will remember him for his work in the first two Harry Potter films as wandsman Garrick Ollivander. He also has an all-time iconic performance in "Alien," where he was the first to have his chest burst, unleashing space horror on popular culture. He later did a parody of himself in "Spaceballs."
Very sad to hear of John Hurt's passing. It was such an honor to have watched you work, sir.

— Elijah Wood (@elijahwood) January 28, 2017
He was essential as Trevor "Broom" Bruttenholm in the "Hellboy" films and was likewise great in his first major role in 1962's "A Man For All Seasons." Many will remember him for "V For Vendetta."
But for Tolkien fans from before Peter Jackson took over movie screens, the voice of Hurt as Aragorn will always be a part of his legacy.
CNN put together this tribute, embedded in his honor.