Additional guild award nominations have been announced in the past two days with The Lord of the Rings: The Rings of Power receiving recognition in even more crafts this time around.
Surprisingly, Rings of Power was not recognized by the Make-up Artists & Hair Stylists Guild, but the series did get a nod from SAG (Screen Actors Guild) for their incredible stunt team:
OUTSTANDING PERFORMANCE BY A STUNT ENSEMBLE IN A TELEVISION SERIES
Andor
The Boys
House of the Dragon
The Lord of the Rings: The Rings of Power
Stranger Things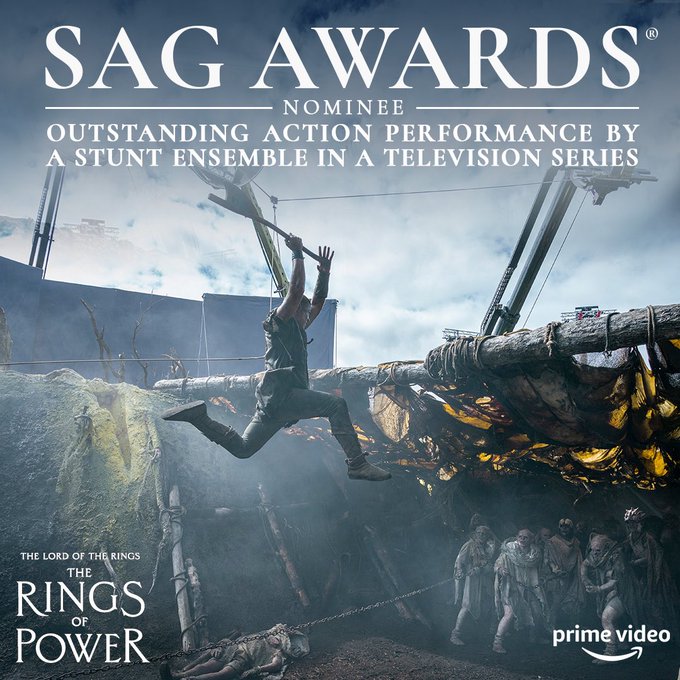 It's a competitive category with all worthy nominees. The SAG Awards will be broadcast live on Netflix's YouTube channel on February 26.
Rings of Power costume designer Kate Hawley was also nominated by the Costume Designers Guild for their 25th CDGA Awards for her outstanding work:
EXCELLANCE IN SCI-FI/FANTASY TELEVISION
House of the Dragon: The Heirs of the Dragon (Jany Temime)
The Lord of the Rings: The Rings of Power: A Shadow of the Past (Kate Hawley)
Westworld: Generation Loss (Debra Beebe)
What We Do in the Shadows: The Wedding (Laura Montgomery)
The Witcher: Blood Origin: Of Mages, Malice, and Monstrous Mayhem (Lucinda Wright)
Guild nominations are often an indicator for the Creative Arts Emmy Awards. Those nominations will be announced July 12 and are being held in a non-televised ceremony this September.
Congratulations to all those from the Rings of Power crew nominated!