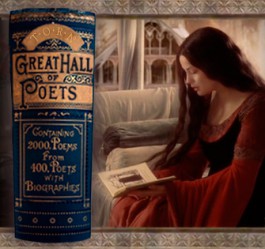 Welcome to The Great Hall of Poets, our regular monthly feature showcasing the talent of Middle-earth fans. Each month we will feature a small selection of the poems submitted, but we hope you will read all of the poems that we have received here in our Great Hall of Poets.
So come and join us by the hearth and enjoy!
If you have a Tolkien/Middle-earth inspired poem you'd like to share, then send it to poetry@theonering.net One poem per person may be submitted each month. Please make sure to proofread your work before sending it in. TheOneRing.net is not responsible for poems posting with spelling or grammatical errors.
A long expected party.
by David McG.
Clip, clop trotting along
Merrily humming a favourite song.
Over the bridge passed Sandyman's mill.
Down round the Green Dragon and up to the Hill.
Pick up a passenger,
Friend of a dear friend.
Clip, clop trotting all the way to Bagend.
Gandalf the Wizard, the Disturber, the Grey
With horse and cart he's on his way.
Chat about past times, but keep secrets near.
Let off some fireworks,
The children they cheer.
Up to the path with the unwelcoming gate.
Arrives when he means to
(as he never is late!)
"Welcome, welcome!" sounds behind the round door.
Invitation replies piling high on the floor.
Hurriedly tidied by the friend loved so dear.
"Gandalf my friend…
…….It's so good that you're here.".
~~ * ~~