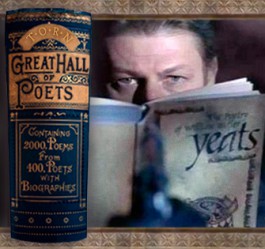 Welcome to The Great Hall of Poets, our regular monthly feature showcasing the talent of Middle-earth fans. Each month we will feature a small selection of the poems submitted, but we hope you will read all of the poems that we have received here in our Great Hall of Poets.
So come and join us by the hearth and enjoy!
If you have a Tolkien/Middle-earth inspired poem you'd like to share, then send it to poetry@theonering.net One poem per person may be submitted each month. Please make sure to proofread your work before sending it in. TheOneRing.net is not responsible for poems posting with spelling or grammatical errors.
The deep breath
by D. McGlinchey
The rolling shadows thrown down from venomous clouds spewed from
dark pits seals the arena.
The throbbing beat of a multitude of drums shakes you to the core whilst
the savage screams from out of the dark tear at your senses.
No way forward.
No way back.
This is where you make your stand.
Formidable are the walls upon which you stand and strong are the defences
behind which you prepare.
Fierce and fell in appearance, your brothers in arms line up by your side in
these dark hours of waiting.
No more doubts
No more fear
There will be no quarter asked, nor given.
Heavy now the shadows fall as against the defences they press like a
physical, unstoppable force.
But stop it does as it meets the immovable will of the mountainous fortress
and the iron will of its defenders.
No longer preparing.
No longer fearing.
The deep breath before the plunge.
~~ * ~~
Who would think to light a tree
by: Alec R.
Who would think to light a tree?
Valar, gold and silver see,
Lorien's Mallorn; Poplar's clap,
Bilbo's too, and take that map,
Odd his humble Party Tree,
Would upward nod toward ancientry,
Heaven's case, a flaming sword,
Placed in Eden, by the Lord,
At the tree of life to ban,
Free from clutch of every man,
The only one who touched that tree?
The Son of God: who hung for thee.
~~ * ~~