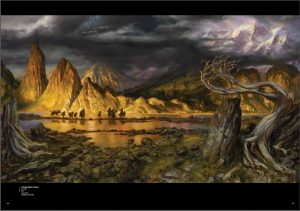 Great news for lovers of Tolkien-inspired art. TORn's good friend Donato Giancola is to release a new collection of his incredible Middle-earth paintings, Middle-earth: Journeys in Myth and Legend.  Published by Dark Horse, the volume will be available in April.
Giancola shares some insight into the development of the book on the blog MuddyColors; click here to read more.
To preorder the book, visit Giancola's website, here. For those who'd like to splash out on a Limited Edition, Giancola and Shawn Speakman (of the SignedPage.com) are offering signed and embossed books; the emboss is the sigil of the Kings of Gondor. Click here to order one.
If you aren't familiar with Donata Giancola's work, you have a treat in store. He is an astonishing artist – and also a very nice guy, whom TORn followers may have met at past TORn events. Don't miss out on getting a copy of this fabulous book – and check out some sneak previews of content, above right and below: