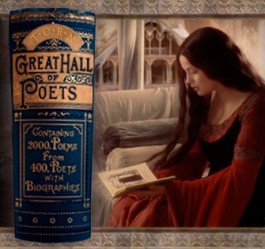 Welcome to The Great Hall of Poets, our regular monthly feature showcasing the talent of Middle-earth fans. Each month we will feature a small selection of the poems submitted, but we hope you will read all of the poems that we have received here in our Great Hall of Poets.
So come and join us by the hearth and enjoy!
If you have a Tolkien/Middle-earth inspired poem you'd like to share, then send it to poetry@theonering.net  One poem per person may be submitted each month. Please make sure to proofread your work before sending it in. TheOneRing.net is not responsible for poems posting with spelling or grammatical errors.
The King of Bling (and his Swag Stag)
by David McG
Here in the Greenwood I am THE KING!
Dressing real fine in my 'Mithriller' bling
Dragons and Orcs steppin' up to ma gate.
Looking to get their heads served on a plate!
Time to head out, put these jokers in line.
Time to react, takin back what's mine.
Time I have, I'm the Master of all seasons.
Time to saddle up and lead out ma legions!
Dwarves back at Erebor think they got it in the bag.
Wait til they get a load of ma suped-up 'Swag Stag'.
Bad to the bone with antlers too match
War Trolls runnin' but I'm too fast to catch
Swag Stag hitting them all like a hammer.
Me in my battle suit bringing the glamour.
I know I look good. I'm reflected in my armour
Swag Stag strutting and lookin like a charmer
My 'Pretty Boy' face on an engine of destruction
With my Homie's at my back we don't need no introduction.
Comin' in hard we're the 'Swag Stag' Crew
Get in our way and we're stompin' on you!!!
~~ * ~~