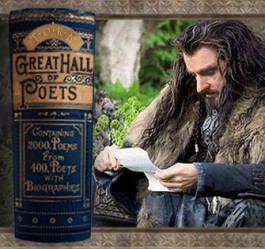 Welcome to The Great Hall of Poets, our regular monthly feature showcasing the talent of Middle-earth fans. Each month we will feature a small selection of the poems submitted, but we hope you will read all of the poems that we have received here in our Great Hall of Poets.
So come and join us by the hearth and enjoy!
If you have a Tolkien/Middle-earth inspired poem you'd like to share, then send it to poetry@theonering.net  One poem per person may be submitted each month. Please make sure to proofread your work before sending it in. TheOneRing.net is not responsible for poems posting with spelling or grammatical errors.
Olorin
by:  Bryan B.
Does he still walk with humble grace
Among the blessed immortal race?
Or could it be that, after rest,
He went upon a task unguessed
To once more come to mortal lands
To strengthen hearts with healing hands?
Perhaps he saw the wasted world
Darkened, doomed, to chaos hurled;
Saw blind arrogance ruling king
And the fading of all living things.
Perhaps he walks unknown to men
In different form than he wore then,
To prompt away from black despair,
And spread the word of peace and care
And teach the speech of old anew
When hearts were dear and tongues were true.
Who would not choose to aid his cause
To once more live the ancient laws,
To help the folks who waste away,
And bring back beauty to their days?
~~ * ~~
The Guardians
by: David McG.
We watch and we wait.
Not for us the strife and woes of Elves, Dwarves and Men.
Unreachable on our hallowed pillar of granite .
We watch
We wait.
We listen and we report.
Not for us the battles and wars of Wizards, Orcs and Kings.
Unfettered by earth bound shackles.
We listen.
We report.
We obey and we act
Not for us to decree to the lower realms how to find true balance.
Unbeatable and unassailable to all.
We obey
We act.
We fly and we soar.
Not for us the restraints and confines of armies and borders.
The sky is open and covers all lands.
We fly.
We soar.
We see and we hear
Not for us the missed shadow in the night or slip of the tongue.
Aware to all that moves.
We see
We hear.
We watch and we wait.
Not for us the uncertainty of mortality and righteousness of being.
Mànwe gives order and truth to our cause.
We watch.
We wait.
~~ * ~~
By Many Names He Was Known
by: Shirebound
A boy did live as fair Estel
An honored son of Rivendell
Through battles fought and wisdom earned
The soldier named Thorongil learned
In Shire safe, they never knew
Beyond their land a Darkness grew
So Strider's men with no reward
Guarded them with strength and sword
A secret hope, a hidden king
Who turned aside from throne and Ring
The Dúnadan in humble dress
The living light of Westernesse
In homage rise the Dead as one
To Aragorn alone they come
The Seeing Stone now his to own
A healer's touch, the king is known
Now Shadow fled, a secret bare
Elfstone, they cry, Isildur's Heir!
And so they come from near and far
To honor good King Elessar
A secret hope, a hidden king
Who turned aside from throne and Ring
The Dúnadan in humble dress
The living light of Westernesse
~~ * ~~
I Will Not Wait: Eowyn at Dunharrow
by: Laurelindorenan
Did you think when you went
They would wrap me in linens
And bury the shieldmaiden
Conquered by grief?
Did you think your refusal
Would still me with sorrow
My tears yet unfallen,
My sword yet in sheath?
I am wild, yes, with sorrow
I am fierce, yes, with grief
I am angry and aching
And burn for relief
But it's longing that drives me
And courage that burns
Not my heart nor my corpse
Will await your return.
~~ * ~~