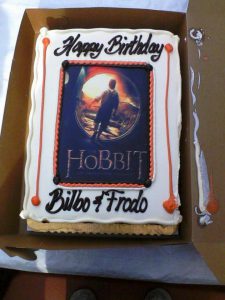 Come One, Come All, the Baggins Birthday Bash is coming in just 3 weeks, time to party like Hobbits, Dwarves, Elves and Men, and maybe the more well behaved Orcs.
We are moving back to Griffith Park, huzzah, and to the Mineral Wells location we've used the past 5 or 6 years before last year's jaunt to Long Beach. Directions can be found on our Facebook event page in the party description. The picnic will start at Noon, with activities wrapping up around 5pm so we can clean up and clear out before it gets too dark. Here are a few of the things to note:
Costumes welcome, but not required. There will be a contest, with all pomp and circumstance.
The Cake and Cupcake contest is back as well, Tolkien themed designs only, please.
Quotes contest – The Hobbit is 80 years old on September 21, so let's keep quotes to just The Hobbit, film or book in honor of the book that introduced Middle-earth to the World.
There may be a few games as well, such as Golfimbul, depending on how much yummy food and fellowship there is, or the temperatures. Actually, the weather may also impact the number of costumes or the viability of the Cakes. I'm sure some of you remember the great Cake meltdown a few years back.
Survival, on hot days, an umbrella or pop up tent work really well, so bring them, and chairs because the park benches don't move. On not so hot days, still bring the pop ups or at least the chairs.
Food, yes, this is a Potluck party, so bring food, at least 6 servings worth, but let's not forget cups, plates, napkins and flatware. If you have an ice chest, bring it. Whether it is personal sized, for your own beverages, or super big to help keep lots of water, soda or juice cold. Bottles are preferred because yellowjackets do seem to like picnics too.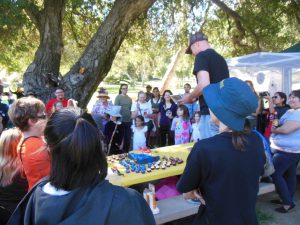 Please check out the Facebook event page (linked above) to RSVP your attendance and what you plan to bring, or you can RSVP to me at Garfeimao@TheOneRing.net just so we have an idea of what is being brought and where we need to fill in the gaps.
And yes, children are very welcome, bring the whole family.