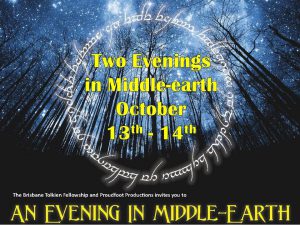 It's that time of year again, when the Brisbane Tolkien Fellowship hosts it's wonderful "Evening in Middle-earth".
This year there is a special treat for everyone, with an extra day, so fans can enjoy Two Evenings in Middle-earth.  Along with the extra day, there is an extra special treat in store for the fans.
Three Dwarves will be attending as guests, so grab your tickets now and spend two fun-filled evenings with Nori, Oin and Bombur.
Friday 13th October, 6:30pm – MEET THE DWARVES – $30
Panel Discussion Evening with Jed Brophy (Nori), John Callen (Oin) and Stephen Hunter (Bombur) – Meet three stars involved in the making of The Hobbit Movies. They will talk about their adventures in the production of the movies and answer questions from the audience. Hot and cold finger food included.
Saturday 14th October, 5:30pm – EVENING IN MIDDLE-EARTH DINNER DANCE – $60
Ticket includes: Two course Buffet Dinner with our Guests, Guest Singer, DJ Music for Dancing, Hobbit Photo Booth, Dragon Supper, Door Prize, Costume Prizes, Raffle Prizes, Spot Prizes, Costumed Characters, Themed Music, Themed Tables, Middle-earth Themed function room.
Two Night 13th – 14th Combo – $70
Attend both nights for this special price – Meet the Dwarves on Friday, and enjoy Dinner and Middle-earth Entertainment with our Guests on Saturday.
ALL PROCEEDS FROM BOTH NIGHTS SUPPORT THE PYJAMA FOUNDATION.