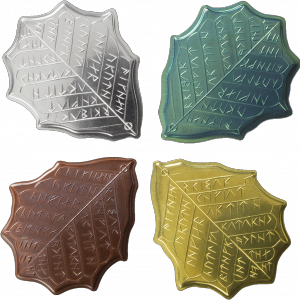 It may be a little late for Christmas shopping, but there are many holidays and celebrations at this time of year (and if you've been wondering about holiday gift ideas, we hope you've checked out our Holiday Gift Guide); and of course it's never too late to treat yourself! So we thought our readers would like to know about the beautiful Elvish Four Leaf Set recently released by our friends at Shire Post Mint.
The four coins are shaped like holly leaves, and are in different metals to represent the four seasons. Shire Post Mint say, 'Also known as Eregion (meaning Land of the Holly in Sindarin), Hollin was an Elven Realm of the Noldorin Elves during the Second Age. It was located near the West Gate of Moria, or Khazad-dûm. These coins were made by the Noldorin Elves while under the rule of Celebrimbor, the great Elven-smith and forger of the Rings of Power. Hollin was later destroyed during the War of the Elves and Sauron.'
You can read more about this stunning set here, and can see full details and place an order here. Coins have been considered lucky New Year presents in many cultures – perhaps start 2017 with a talisman for the good fortune you hope to see throughout the year?