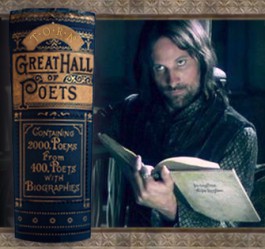 Welcome to The Great Hall of Poets, our regular monthly feature showcasing the talent of Middle-earth fans. Each month we will feature a small selection of the poems submitted, but we hope you will read all of the poems that we have received here in our Great Hall of Poets.
So come and join us by the hearth and enjoy!
If you have a Tolkien/Middle-earth inspired poem you'd like to share, then send it to poetry@theonering.net  One poem per person may be submitted each month. Please make sure to proofread your work before sending it in. TheOneRing.net is not responsible for poems posting with spelling or grammatical errors.
The Departure of Celebrian
by: Lydwina Marie
My heart is breaking on the quay,
I board the ship by sun's last ray.
Grouped together, the four I love
Stand to wish me one last farewell.
Elrond, my dearest love, you weep;
You hold the rose I bade you keep.
Your eyes find mine for one last time,
You say farewell with silent words.
Elladan, fearless warrior,
I beg you, son, to weep no more.
Your tears will fade, your grief will ease;
Be strong and we will meet once more.
Elrohir, darling steadfast son,
Weep no more; face your fear, don't run.
We'll meet at last in Valinor
No more to part, but now stand firm.
Arwen, my own fair Evenstar,
Your beauty equals any star.
Such grief is not for little ones,
But keep faith, for we'll meet again.
Lift your eyes for one last goodbye,
The ship's departing, my time is nigh.
Hold your peace and do not fear,
And we will meet on Hither Shore.
~~ * ~~
Mithril and I are looking forward to seeing some Yuletide poems for next month, cheers Kel x