Today is September 22 — which means that (in the Shire Reckoning) it's the birthdays of Bilbo and Frodo Baggins. To celebrate here are fourteen fabulous quotes (and we're sure you, dear reader, could think of many more) from Bilbo in The Hobbit.
Enjoy!
This hobbit was a very well-to-do hobbit, and his name was Baggins. The Bagginses had lived in the neighbourhood of The Hill for time out of mind, and people considered them very respectable, not only because most of them were rich, but also because they never had any adventures or did anything unexpected: you could tell what a Baggins would say on any question without the bother of asking him.

This is a story of how a Baggins had an adventure, found himself doing and saying things altogether unexpected. He may have lost the neighbours' respect, but he gained-well, you will see whether he gained anything in the end.
1
"Sorry! I don't want any adventures, thank you. Not Today. Good morning! But please come to tea – any time you like! Why not tomorrow? Good bye!"

– Bilbo Baggins. An Unexpected Party.
2
"What have I got in my pocket?" he said aloud. He was talking to himself, but Gollum thought it was a riddle, and he was frightfully upset.

– Bilbo Baggins. Riddles in the Dark.
3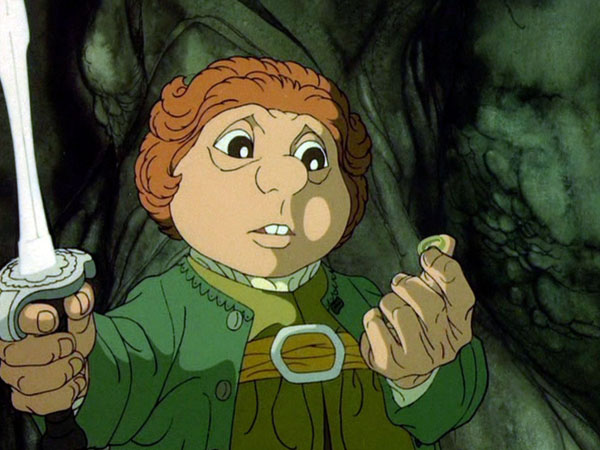 "Go back?" he thought. "No good at all! Go sideways? Impossible! Go forward? Only thing to do! On we go!"
– Bilbo Baggins. Riddles in the Dark.
4
"The Eagles! The Eagles!" he shouted. "The Eagles are coming!"
– Bilbo Baggins. The Clouds Burst.
5
"Victory after all, I suppose! Well, it seems a very gloomy business."
– Bilbo Baggins, The Return Journey
6
"Thag you very buch!"
– Bilbo Baggins. A Warm Welcome.
7
"I came from the end of bag, but no bag went over me. I am the friend of bears and the guest of eagles. I am Ring-winner and Luckwearer; and I am Barrel-rider."
– Bilbo Baggins. Inside Information.
8
"Bother burgling and everything to do with it! I wish I was at home in my nice hole by the fire, with the kettle just beginning to sing!"
– Bilbo Baggins. Roast Mutton.
9
"I will give you a name," he said to it, "and I shall call you Sting."
– Bilbo Baggins. Flies and Spiders.
10
"Very well!" said Bilbo very downcast, and also rather annoyed. "Come along back to your nice cells, and I will lock you all in again, and you can sit there comfortably and think of a better plan-but I don't suppose I shall ever get hold of the keys again, even if I feel inclined to try."
– Bilbo Baggins. Barrels Out of Bond.
11
"Never laugh at live dragons, Bilbo you fool!"
– Bilbo Baggins. Inside Information.
12
"Farewell, King under the Mountain!" he said. "This is a bitter adventure, if it must end so; and not a mountain of gold can amend it. Yet I am glad that I have shared in your perils – that has been more than any Baggins deserves."
– Bilbo Baggins. The Return Journey.
13
"If ever you are passing my way," said Bilbo, "don't wait to knock! Tea is at four; but any of you are welcome at any time!"
– Bilbo Baggins. The Return Journey.
14
Roads go ever ever on,
Over rock and under tree,
By caves where never sun has shone,
By streams that never find the sea;
– Bilbo Baggins. The Last Stage.