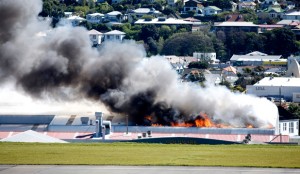 Story developing: A studio that helped make some of Wellington's most famous films is on fire in Wellington. A huge fire at Portsmouth Miniatures Studio broke out at 3.10pm. A pall of smoke can be seen all over the eastern suburbs, rising from the building, near Wellington Airport.
The studio's manager said she was on her way to the scene. No-one was hurt, she said. "And that's the main thing." Crews from all around the Wellington region have gone to fight the blaze. Portsmouth Miniatures Studio has had a hand in many Wellington films. Its facilities were used during the making of Peter Jackson movies including King Kong and the Lord Of The Rings trilogy.
Update from tvnz.co.nz: It is believed to be the Rongotai studio where he films miniatures, located behind the Kilbirnie Fire Station.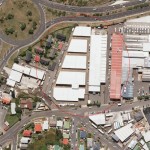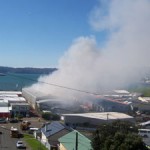 Fire burns a Wellington studio owned by Sir Peter Jackson. – Source: Picture supplied by Matt Kovesdi