LOTR Blu-Ray Winners!
September 21, 2010

at

10:20 am by Calisuri
-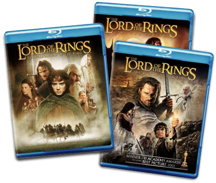 Thousands have entered our The Lord of the Rings Prize Pack giveaway, but only five can win! Today, we are pleased to announce those winners! Congrats to those who won, and thanks to Warner Brothers for making this giveaway possible. Please use the links below to place your order for The Lord of the Rings Films on Blu-Ray today!
The winners are:
James B – USA
Sarit S. – Israel
Victor D. – Russia
Shawn D. – USA
Mark L. – USA
Winners will be contact via email to claim their prize. Please note, if you were an international winner, you will be asked to pay for shipping. So you didn't win? No worries, pick up your copies today from Amazon.com or your local retailer. [FOTR Blu-Ray] [TTT Blu-Ray] [ROTK Blu-Ray]
Posted in Contests, Events, Fans, Lord of the Rings, LotR Movies, Movie Fellowship of the Ring, Movie Return of the King, Movie The Two Towers, TheOneRing.net Announcements on September 21, 2010 by Calisuri