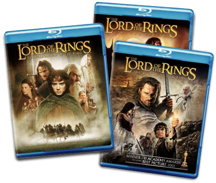 The Lord of the Rings films are coming out individually on Blu-ray today, so we thought we'd celebrate with a bit of a giveaway! TheOneRing.net in coordination with Warner Brothers Home Entertainment are giving you a chance to win an impressive LOTR prize pack! Each prize pack includes:
(1) "The Fellowship Of The Ring" Blu-ray disc
(1) "The Two Towers" Blu-ray disc
(1) "The Return Of The King" Blu-ray disc
(7) Seven Bookmarks
(1) One Navy Blue Ornament
(1) One deck of LOTR Playing Cards
(1) One Travel Candle
(1) One Poster
We are giving away (5) five packs, so your odds of winning are greatly increased! The entry form is after the break, and winners will be announced on Sept 21st 2010. Thanks to Warner Brothers for making this giveaway possible! And don't forget to pick up your copies today at a local store or through your favorite online source. [FOTR Blu-Ray] [TTT Blu-Ray] [ROTK Blu-Ray]
This giveaway is now closed! Please see the winners, located here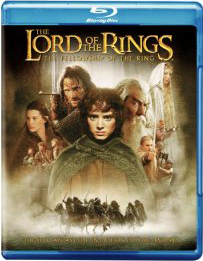 THE FELLOWSHIP OF THE RING – Based on J.R.R. Tolkien's masterpiece, The Fellowship of the Ring is an epic adventure of good against evil, the power of friendship and individual courage.  The saga centers around an unassuming Hobbit named Frodo Baggins who inherits a Ring that would give a dark and powerful lord the power to enslave the world.  With a loyal fellowship of elves, dwarves, men and a wizard, Frodo embarks on a heroic quest to destroy the One Ring and pave the way for the emergence of mankind.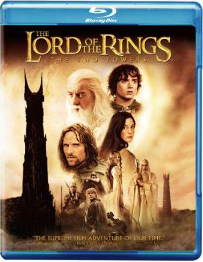 THE TWO TOWERS – Frodo Baggins and the Fellowship continue their quest to destroy the One Ring and stand against the evil of the Dark Lord Sauron.  The Fellowship has divided and now find themselves taking different paths to defeating Sauron and his allies.  their destinies now lie at two towers – Orthanc Tower in Isengard, where the corrupted wizard Saruman waits, and Sauron's fortress at Baraddur, deep within the dark lands of Mordor.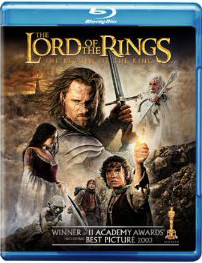 THE RETURN OF THE KING – The final battle for Middle-earth begins.  Frodo and Sam, led by Gollum, continue their dangerous mission toward the fires of Mount Doom in order to destroy the One Ring.  Aragorn struggles to fulfill his legacy as he leads his outnumbered followers against the growing power of the Dar Lord Sauron, so that the Ring-bearer may complete his quest.