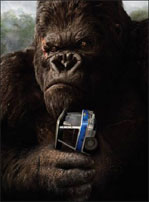 Universal City, California–King Kong, among the screen's most powerful and enduring icons, will re-emerge in Summer 2010 as a new signature attraction created under the direction of Peter Jackson on the famed Universal Studios HollywoodSM Studio Tour.
"King Kong 360 3-D" Created by Peter Jackson will be the world's largest most intense 3D experience on the planet, combining thrilling visceral effects to create a next-generation theme park experience.
Peter Jackson, director of the Oscar®-winning 2005 Universal Pictures film upon which the attraction is based, said: "The new King Kong at Universal Studios Hollywood will be an incredible amount of fun and a chance to really push film and theme park technology. Aboard the Universal tram, you'll get a wrap-around view of the action through a process involving eight 3-D images shot and projected at 60 frames per second. The film and tram will be tied into a motion simulator that will allow you to physically experience this pulse-pounding spectacle, which includes a fight between Kong and a group of V-Rex, the larger cousins of the T-Rex. You'll find yourself right in the middle of the action."
"King Kong 360 3-D" Created by Peter Jackson will be the first theme park attraction to be directed by the Oscar-winning filmmaker.
Larry Kurzweil, President and Chief Operating Officer, Universal Studios Hollywood, said: "King Kong has been an integral part of Universal Studios Hollywood for decades and, after the 2008 fire, we knew he had to be reintroduced as a new, groundbreaking, thoroughly over-the-top experience that will thrill new generations of Studio Tour guests. King Kong 360 will be the most exhilarating feature of our world-famous Studio Tour, setting the bar at a new level for immersive theme park experiences."
In the new attraction, guests will be given special 3-D glasses as they enter a darkened soundstage aboard the Studio Tour trams and will be transported— via the magic of Surround Digital 3D projection —deep into a tangled jungle location. They'll survive a close encounter with a swarm of hungry raptors, only to be confronted by the terrifying presence of 35′ tall dinosaur behemoths, intent on attacking the tram and Studio Tour guests.
Suddenly, a 25′ tall gorilla appears – Kong himself! The trams jolt and shudder as the guests find themselves caught in the middle of a titanic struggle between these colossal prehistoric foes – the great ape and carnivorous reptiles – action which sends the packed trams sliding ever closer to the edge of a bottomless chasm.
King Kong, known as "the eighth wonder of the world," has been called "the experience for which movies were invented." Since first appearing on the screen in the 1933 original classic, "King Kong" has been re-made twice, each time on a tremendous scale, earning a total of seven Oscar® and three Golden Globe® nominations. Most recently, Peter Jackson's 2005 version took classic elements of the original "King Kong" story and adrenalized them with up-to-the-minute effects magic and the alchemic talents of a superlative group of filmmakers, cast and crew. Released to critical acclaim in late 2005, "King Kong" was a worldwide hit.
The arrival of the new "King Kong 360 3-D" Created by Peter Jackson experience coincides with major enhancements to the iconic Studio Tour. The most extensive backlot construction ever in the history of Universal Studios, which includes re-creations of legendary Hollywood sets and the introduction of brand-new shooting locations, will make the renowned Studio buzz with star-studded film and television production as never before. Studio trams were recently equipped as "mobile movie theaters" with state-of-the-art flat-screen high-definition monitors and digital playback systems. The new high-definition monitors feature commentary from filmmakers, actors and personalities. Clips from numerous movie and television productions, corresponding to sites visited along the Tour route, add a new dimension to the tour of backlot attractions, sets and facades.
Universal Studios Hollywood is a unit of Universal Parks & Resorts, a division of NBC Universal, one of the world's leading media and entertainment companies in the development, production, and marketing of entertainment, news, and information to a global audience.
More information is available at www.UniversalStudiosHollywood.com