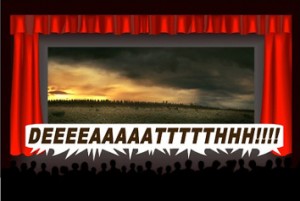 Founder's Day fun continues this weekend with the Sixth Annual Lord of the Rings Extended Edition Trilogy Marathon! (phew, that's a long title!)
Join us Saturday, May 1, beginning at 9 a.m. EDT. in TORn's chatroom "Barliman's" as people from around the world sit down at their computers with one common goal: to virtually gather with other fans to watch all three Lord of the Ring extended editions straight through. Geeky? Yes. Fun? Absolutely. Find all the details on our Marathon FAQ.
But that's not all! Also on Saturday night Barliman's will be holding a special Hobbit discussion between "The Two Towers" and "Return of the King." (approx. 5:30 p.m.):
Speculation and anticipation are mounting among Lord of the Rings fans as news about the Hobbit continues to dribble out. With scripts for the two films drafted, but the project still awaiting the studio greenlight, TORn's Hall of Fire returns to host a discussion asking "what next?" What can we expect to see in the films? Who will take the lead role? And will it be wall-to-wall dwarves, or will there be additions and casualties? Come along, and bring your own rumours for discussion!
So please join us on the TORn IRC server this Saturday for two very special events! Read more