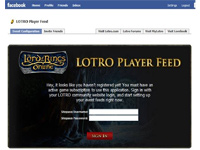 Elicia Basoli from Turbine writes: Turbine has just launched the latest social feature for The Lord of the Rings Online™ (LOTRO) players, the Player Feed.
The Player Feed application allows players to share their in-game status and achievements with their online friends via Facebook, extending the social experience for active LOTRO players. This new application is powered by the my.lotro.com social network and allows players to easily share their adventures with friends worldwide.
Players can visit www.lotro.com for more information, or install the app directly here: http://bit.ly/dypl74! A screenshot is also posted below, for your use.