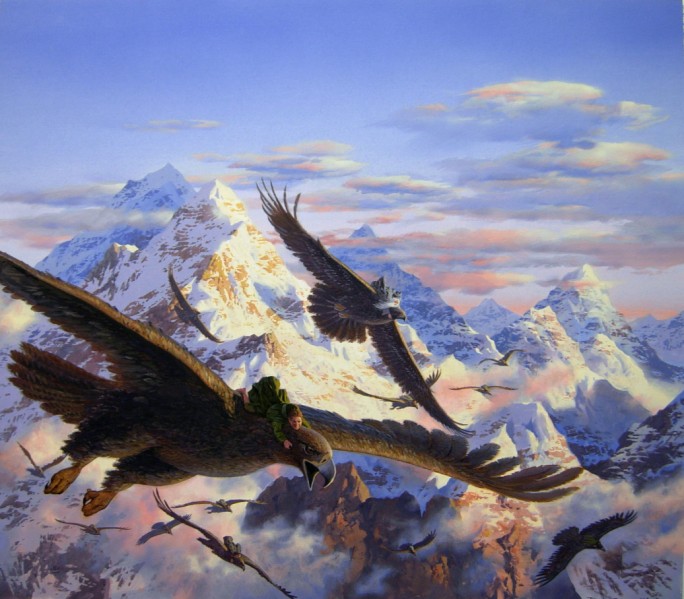 Malcolm writes: After we recently announced a postponement of "Edge of the Wild" Tolkien Art Exhibition (that was 26-29th March 2010) until the Summer 2010, we are now pleased to be able to advise that The Redesdale Hall was able to accommodate us for Fri 13th Aug – Mon 16th Aug 2010, so these are the new Exhibition dates.
"Edge of the Wild" Tolkien Art Exhibition, The Redesdale Hall, Moreton-in-Marsh, Glos, GL56 0AW, UK.
Public 9-5: Sat 14th Aug – Mon 16th Aug 2010, free entry.
Invite only Preview Party: Fri 13th Aug 2010.
Now into its seventh year, our annual Art Exhibition is held at The Redesdale Hall, Moreton-in-Marsh, Glos, a wonderful Victorian building both on the outside and inside, making it an ideal location with free parking too. This year's theme is "The Edge of the Wild" with Ted Nasmith's wonderful image "Bilbo and the Eagles" leading the way and consisting of Original Artwork and Limited edition Prints from Tolkien artists: Ted Nasmith, Ruth Lacon, Jef Murray and Peter Pracownik.
The artwork is displayed upstairs (there is a chair lift for disabled access) and completely fills the space – well decorated with flags and banners, with a showcase of historical Tolkien artifacts too.
It is a free-entry event, with nibbles, wine and hot and cold drinks. During the event you can meet the artists and listen to talks about their work. There is music , often live, a Tolkien Quiz and a Masquerade on the Sunday, and a large get together meal locally on the Saturday eve, followed by more songs! Downstairs there is a range of dealers offering books, memorabilia, music, swords and clothing, candles, waistcoats, other talented Tolkien artists, bow-making, and at lunchtimes we are lucky to have the Eagles attend from the local Falconry.
The Exhibition is open to the public from 9-5 Sat 14th – Mon 16th Aug, with an Invite only Preview Party on the eve of Fri 13th Aug. Whether you visit for the day, or stay locally and attend it all, it is great fun, with many friends, and a chance to gaze for as long as you wish at the detailed work of our four Tolkien artists, meet and talk with them, and to try your knowledge with a team in the quiz. Local Hotels and B&B's fill up quickly but there are also two nearby camp sites.
Often the event coincides with a new Tolkien book. Previously we have had Alan Lee signing his illustrated "Children of Hurin"; in 2009 we had the launch of our own publication: "Black & White Ogre Country: The Lost Tales of Hilary Tolkien"; and in 2010 it will coincide with the publication of our follow up biography of Hilary Tolkien: "Wheelbarrows at Dawn: Memories of Hilary Tolkien", with the authors, Angela Gardner & Neil Holford signing copies alongside Chris Tolkien, whose fond memories of his grandfather that led to the desire to publish these writings.
Reports on previous Exhibitions can be found on our website. Send Malcx your email address to be added to the Event List and Preview Party: malcx@adcbooks.co.uk Just to whet your appetite you can also look at our latest online catalogue of artwork by our artists at www.adcbooks.co.uk
Website: http://www.adcbooks.co.uk