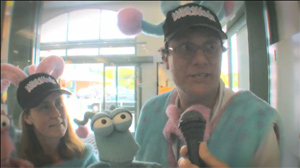 The folks from WIFI, a network of independent film artists based in Wellington New Zealand, send this in: We recently did an interview with Richard Taylor and Tania Rodger from WETA and we thought you may or may not be interested in sharing it with the TORN community.
PS:Keep up the fantastic work!!!
PPSS: We recently attended the GDT event at the Paramount and asked a question specifically about TheOneRing.net and whether or not GDT would be posting anything like a video diary (similar to the King Kong Production Diaries). Guillermo replied that he can't keep a secret and that he would spill all the beans if it was up to him. Also, he said that he will do his best to expose the all the movie making magic tricks after the process.
WIFI Industry Interview with Richard Taylor and Tania Rodger from WIFI Administrator on Vimeo.