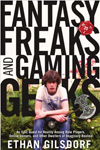 TORN Pal and author Ethan Gilsdorf has agreed to blog his West coast book tour for us! Take a look at his first blog: One of the joys of traveling across the US on tour for my book FANTASY FREAKS AND GAMING GEEKS: An Epic Quest for Reality Among Role Players, Online Gamers, and Other Dwellers of Imaginary Realms is meeting so many other fantasy freaks and gaming geeks. Ive spoken to many folks who are dying to share their stories of how they got into gaming or what role fantasy plays in their lives. Its reminded me, again, how powerful these subcultures can be, and why a nerdy Oxford don (aka Tolkien) and all that he has inspired has such meaning in the lives of millions.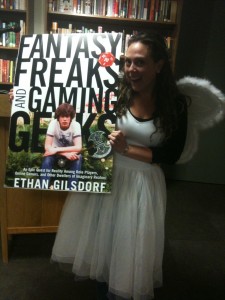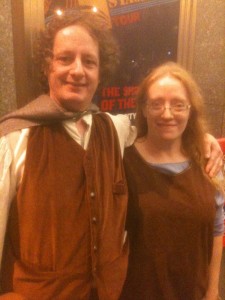 There was the gentleman in Madison, WI, who was the spitting image of Gary Gygax and came dressed as a druid (wearing horn-rimmed glasses). He talked about his in-game name, Drigon son of Drugan, and recounted the lineage of gamers in his family, from him to his son to his grandson. The geeks have grown up, and theyre introducing a second and sometime third generation to the joys of fantasy and gaming.
There was Nissa Ludwig, a life-long gamer and LARPer, who Id interviewed for my book but never met in person, who came rolling up in a wheelchair to my booth at a convention. She was evidence of the transformational nature of fantasy. As she says in my book, not only did gaming distract her from the pain of her physical ailments, but it also allowed her — via her avatar — to do things that she could not do in real life. And she didnt mean ultra-heroic exploits. I cant run through the grass barefoot anymore, she told me. Its something I cannot do. But my avatar can.
And the countless folks who saw my book and said, Im going to buy this for my father/mother/girlfriend/boyfriend, and finally theyre going to get why I love Tolkien/World of Warcraft/Harry Potter so much.
And the pay off for me, the writer? In connecting with gamers and fantasy freaks everywhere, we see how close we all are.
The FANTASY FREAKS AND GAMING GEEKS dog-and-pony (and orc) show comes to the West Coast this and next week. More info on the tour here: http://www.ethangilsdorf.com/book-toureventsspeaking/
CHECK OUT THE FULL BOOK TOUR SPECIAL AND MORE 'FANTASY FREAKS' NEWS HERE!