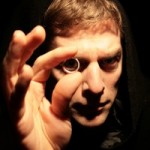 TORn friend Charles Ross continues to gradually conquer the world with his One Man Lord of the Rings show. He is set to perform at the must see Edinburgh Fringe August 6 -16. TheOneRing.net is seeking a a fan who can attend the event to give us a spy report. We also want to hear from anybody planning to attend in a LOTR costume. Ross performed at our ORC event several years ago and was magnificent, hilarious and surprisingly touching. Read all the details inside.
If you are planning to costume or think you can send in a spy report, please e-mail SpyMaster@TheOneRing.net with "Edinburgh Fringe" in the subject line.
Valerie wrote in about the event:
ONE MAN LORD OF THE RINGS
EDINBURGH FRINGE – E4 UDDERBELLY, 6-16TH AUGUST
100,000 characters. Nine companions. Three masterworks. One Man to do it all.
Canadian actor Charles Ross first made an impact on the Edinburgh Fringe when his debut show, One Man Star Wars Trilogy, was a surprise sell-out hit of the 2006 event. Now he returns with his equally hilarious follow-up – One Man Lord Of The Rings – in which he recreates the enchanting world of Middle-earth, armed with nothing more than a pair of elbow pads and his outrageous imagination, at the E4 Udderbelly, Bristo Square, from 6-16th August 2009.
No props or costumes are required as Ross hurtles through the Tolkien trilogy – The Fellowship Of The Ring, The Two Towers and The Return Of The King – in just 3,600 seconds of unbelievable kinetic entertainment.
Since his first Edinburgh Fringe appearance, Charles Ross has toured the world, performing his Star Wars show over 1,200 times in more than 180 cities across four continents – and his One Man Lord Of The Rings looks set to follow suit.
Directed by TJ Dawe and with lighting design by Mike Schaldmose, One Man Lord Of The Rings was selected as 'Patron's Choice' for Best Play at the Toronto Fringe Festival and '#1 Best Of Fringe' at this year's Saskatoon Fringe Festival. It's even been given a wizard's seal of approval by Gandalf himself, after Sir Ian McKellen caught a performance in Canada!
So if you've seen the films, read the books and named your first-born Frodo, don't miss Ross' zany take on the ever-popular epic saga.
www.onemanlotr.com
'If you liked The Lord of the Rings trilogy, you'll love Charlie Ross' version – and if you didn't, well, at least his is shorter' – Sir Ian McKellen
E4 UDDERBELLY (venue 300), Bristo Square, 6-16th August, 20.35 (60 mins),
6-7th (Previews) £7, 8th & 11-13th £12.50/£10.00, 9-10th & 10-16th £14.50/£13.00
Box Office: 0844 545 8252 / www.underbelly.co.uk.