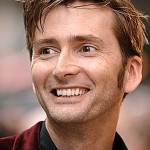 UPDATE: A source inside the production tells us they are not aware of any such announcement to take place at Comic-Con. We feel pretty comfortable saying this rumor isn't valid.
It is probably typical internet rumor-mongering, but we keep getting whispered to that the lead for the two Hobbit films is cast and is heading to Comic-Con in San Diego.
Some are claiming that David Tennant, the lead actor in the popular "Dr. Who," series, will be announced as the title character for the pair of Hobbit films during the San Diego Comic-Con. He is there to talk about his "Dr. Who," series but with Hobbit producer Peter Jackson also in San Diego, some are saying the week will be used as the occasion to make the casting announcement with maximum impact.