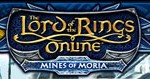 "The Lord of the Rings Online," launched two years ago, gives players a chance to explore first-hand, a gaming interpretation of Middle-earth. TORn checked in with three of the individuals behind the game: (Jeffrey Steefel, LOTRO Executive Producer; Harry Teasly, LOTRO Art Director for LOTRO; Adam Mersky, Director of Communications for parent company Turbine) to talk about the game's past and its future. There are several promotions in place right now for the game, lots of game details at the end of the article including an exclusive giveaway for TORn readers!
For two years now, via a home computer, you can walk and run around Middle-earth (and LOTRO always correctly uses the lower-case "e" in earth, a good sign) and experience the sights, sounds, races, spaces and dangers of Tolkien's fictional creation during the time of his "Lord Of The Rings," books.
"This game is going to be around for a long time," Steeple said. "We don't want the same game we launched in 2007, we have learned some lessons over the past two years.
Game play for beginners has been significantly revamped to make it more comfortable, even for players new to the world of massive multiplayer games. The team realizes that some are willing to step inside the realm of Middle-earth when they might not be ready to try similar games in less familiar settings.
"The barrier to entry on LOTRO is so much easier now."
"The game now is telling you where you need to go," Steefel said. "That is a significant change to the game and you can turn it off if you don't like it."
Part of that process has been the creation of a "quest guide," to help prevent players from getting stuck when they can't figure out what to do next. It also primes the game for two new markets, the extremely dedicated Tolkien fans in Russia and the heavy gaming destination of Korea. China is in Turbine's sights as well.
The game was named the MMO of the year when it was released and its major Moria expansion also received praise and accolades. The game is healthy, dynamic with its updates and content and still wants to expand, calling the current era a time of growth as the game matures.
It the process of the regular free expansions and the occasional massive ones, there is 70 percent more Middle-earth to explore. The next free update, called Book 8, will take the players back to Moria.
"Everything is not settled in Khazad Dum," Steefel explained.
The game has evolved over time and will now feature more small group efforts for 3-6 players rather than the 20-or-more battles embraced by many MMOs. That is due to the feedback Turbine gets from players and they find the whole dynamic of multiplayer online games is shifting.
"The audience has broadened and grown, diversified a little bit. They (players) have to work; they don't have to lose their family to play. A lot of people who play, play more 'casually,' and I hesitate to use that word. (They) might not play 40 hours a week. They might play five. The game itself has changed. The definition of MMOs has changed and over the next 3-5 years will change tremendously. There will be accessibility changes on the web on the phone and PC with PC not being the only choice."
All those things may not apply to LOTRO, but there are changes there as well. Players should expect to see:
An updated outfit system, virtually the thrust of all artwork requests, and astonishingly well received – "Players love it, they want more, more, more"
Barbershops
An increased level cap – "Definitely something players can expect"
"Skirmishes," the natural evolution of dynamic, small-party experiences, dynamic and repeatable, content responds to how large/small a party is
Characters train customizable soldiers that you can bring along and control
Beyond those game additions, the designers are peering over the Misty Mountains, looking into what is famously territory from Tolkien's 'The Hobbit'.
"I myself am really anxious about Mirkwood and Dol Gulder," said art director Harry Teasly. "We are developing techniques to make it grander, larger and more detailed."
Located in the southern portion of Mirkwood, the fortress of Sauron (a likely location in Guillermo Del Toro's two "Hobbit" movies) served as a staging point for his gathering of strength and his search for the One Ring. Left quite vague in Tolkien's writings, it will serve as a future expansion for LOTRO. The game will not (yet) venture to the same space traveled by Bilbo and his Dwarven companions.
"I've been to Dol Gulder and it is stunning!" Teasly enthused. He said it is "beyond his wildest expectations."
"I am really excited by what the art team has achieved."
Adam Mersky pointed out that there are more things to entice players that the obvious.
"One of the best features of the game isn't a game design at all, it's our community. That is sort of an intangible thing, we have a team that works on that, it's as important as any game system we make," he said.
To help a new player, which likely includes a great number of TheOneRing.net readers, Turbine is offering some enticements to help it celebrate the LOTRO 2nd birthday:
Buying from Turbine online, players can get the game for $9.99 and get on a monthly plan for the same price
That $9.99 monthly can be renewed as long as the player wishes if they choose a minimum of 90 days upfront
The $9.99 also is extended as a "welcome back" to returning players
All active players, as of June 30 get a "writ of passage" to help with fast travel (the game is big!) forever
Monsters will drop a rare item that players can exchange for in-game gift boxes, contents unrevealed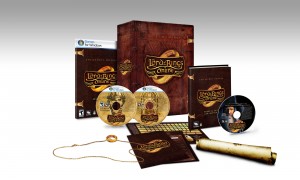 We will make more details available soon, but Turbine is also giving away to TheOneRing.net readers, 10 The Lord of the Rings Online Collector's Editions .
Contents include:
Volume 1: 'Shadows of Angmar' and Volume II: 'Mines of Moria'
30 days free play
3 exclusive tokens that can be exchanged for the player's choice of 8 different in-game items
22″ x 22″ premium quality cloth map of the Mines of Moria
Special gold-plated replica of The One Ring complete with chain and pouch
Mines of Moria poster
The Lord of the Rings Online Art and Music Collection with the official Mines of Moria Soundtrack
A full color Collector's Edition Starter Guide
The official website is here and a getting started guide is found here.