Various LOTR Online Updates
February 6, 2009

at

3:47 pm by xoanon
-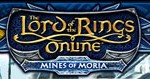 Rick "Sapience" Heaton sends this in: The LOTRO development team recently participated in a live chat hosted by Xfire. Producer Rowan, Art Director Floon, and designers Jalessa, Amlug, and Constant Gardener shared some new info about Volume II, Book 7; the first free content update to Mines of Moria ™!
Some of the highlights included
* A new 12-man raid
* The opening of Lorien to players
* A new Lorien reputation system
* New Minstrel Instruments
* Insights into Class creation and changes on the way
Read the full transcript to get all the details!
The latest installment in our Hero's series takes players to Lothlorien. Lady Galadriel, Queen of Lothlórien, has a mission in mind, and the Galadhrim, the Elves of Lórien, call upon you to make it succeed.
Just a quick reminder that Turbine has teamed up with Xfire to offer players great prizes for playing The Lord of the Rings Online (Full Game or Free Trial) and joining the Official Xfire LOTRO Clan while signed into Xfire from January 28th to February 11th! There are only a few days left to play 2 win!
Posted in Gaming on February 6, 2009 by xoanon