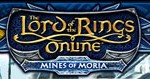 The folks from Turbine write: We're pleased to announce that the 10 day Free Trial for The Lord of the Rings Online: Mines of Moria is now open! If you have friends who have been waiting for an opportunity to try the game voted Best MMORPG of 2008*, let them know they can start their free trial by visiting lotro.com/trial
Turbine has teamed up with Xfire to offer players great prizes for playing The Lord of the Rings Online™ (Full Game and Free trial) and Joining the Official Xfire LOTRO Clan while signed into Xfire from January 28th to February 11th! 30 Winners will be chosen for prizes including free play time and T-Shirts.
Xfire will also be hosting a live chat with members of the LOTRO Development team on February 3 with even more great prizes available. You have to sign up to participate so make sure you do so early!
This week our Exploring Middle-earth series takes players on a tour of The Great Delving, and Golfimbul's Hole. The Great Delving is the first region of Moria to be rediscovered by travelers from the west while Golfimbul's Hole is the place where the goblin-king Golfimbul encamped his army during their assault on the shire.
* "Best MMORPG 2008 — 1UP.com Reader's Choice Awards; "Best Overall Game 2008" — MMORPG.com; "PC Game of the Year 2007" – Golden Joystick Awards; "PC MMO of the Year 2007" — GameSpy