Christmas gift suggestions for Tolkien fans
December 16, 2008

at

11:43 pm by MrCere -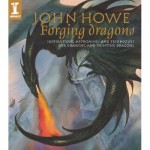 We all love to give and receive. The old saying goes that 'It's the thought that counts,' and while nobody can argue with such a noble sentiment, perhaps some thoughts are better than others. For instance, if the gift that demonstrates that your 'thought' included consideration that your intended recipient is a fan of J.R.R. Tolkien, it will probably be more appreciated than the one that prompts you to buy a big-box store gift certificate. So what is the perfect gift for the Tolkien reader this year? We have three suggestions.
"John Howe: Forging Dragons" $28. TheOneRing had an amazing conversation with Howe and Richard Taylor at Comic-Con this year in which dragons were much discussed. Unfortunately, the audio to this moment was forever lost in the mail and was never shared with readers. What a delight then to find this book from "Impact Books," where Howe lays out his thoughts, knowledge and artwork concerning dragons.
The book is considered an "art techniques" volume but non-artists will find it just as valuable and enjoyable. It is visually beautiful, full of Howe pieces that illustrate a point and create the visions of other worlds that fans so appreciate.
While not strictly "a Tolkien book," there is definitely a strong Middle-earth presence at the end of the volume. After talking dragons in broad terms with consideration of mythology and cosmic dragons, Howe gets more personal with a look at specific monsters and heroes like Beowulf, Fafnir and St. George and his dragon.
When he treads into realms that we all wish we could travel, we are treated to his thought process and the techniques that bring fiction to life in artwork. After discussing Pern and Earthsea, with a fitting tribute from gifted author and collaborator Robin Hobb, he lands firmly in Middle-earth.
The current rock star among winged reptilians is Tolkien's own Smaug. Since this conversational and diabolical beast will hit the silver screen to much acclaim, and since his literary power created the measuring stick for other dragons to this day, he deserves the several pages he is given. Howe's imaginings will once again become greatly anticipated live-action cinema when Guillermo del Toro and the Weta team bring his art to life.
Howe also visits his fell beasts from "The Lord of the Rings," and then the monstrous Glaurung, – the very doom of the Children of Hurin – is also given the royal treatment. If Smaug is devious, Glaurung is despicable and Howe treats each creature, the very spawn of Morgoth himself, completely differently.
The book is rich with color and the folks at Impact Books were wise enough to include plenty of two-page spreads that let the art speak for itself. It is a beautiful book, great without the Tolkien content but special because of it. Howe the artist is widely beloved but Howe the author is praiseworthy as well. Buy this as a gift and your Tolkien enthusiast will adore you for it. Oh, and there is a forward by Guillermo del Toro.
Find it at Amazon.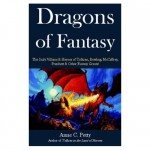 Dragons of Fantasy by Anne C. Petty $13. Dr. Petty is a friend and the author of "Tolkien in the Land of Heroes," and "One Ring to Bind Them All: Tolkien's Mythology".when she handed me a copy of her extensively revised second edition of "Dragons of Fantasy: All About Dragons and Those Who Create Them," I think it was meant as a personal gift and in fact I had her write in it.
But I so enjoyed the book, and it is so tailored to be accessible to readers who enjoy Tolkien, that it would be rotten not to sing its praises. Published by Kitsune Books, this is a wonderful exploration of, as its title suggests, dragons in fantasy literature. Petty is scholarly and organized in her presentation but she is never pretentious or difficult to follow. She writes clearly and conversationally and manages to inform but never feels the need to show off her vocabulary speak down to the reader.
Unlike Howe, Petty starts with Tolkien and his dragons and then references them the rest of the way. In fact the good professor's shadow is cast long in Petty's work and somewhat in all of the authors that she explores.
Authors discussed besides Tolkien:
Anne McCaffrey
Terry Pratchett
Ursula K. Le Guin
Jane Yolen
Terry Goodkind
J.K. Rowling
After the specific authors Petty also delves into the history and background of dragons in both different eras and from different cultures right up to modern times. She covers a lot of ground in under 300 pages. Be sure to borrow the book after you give it as a gift. You can find it right here.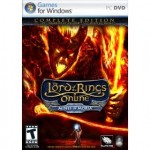 The Lord of the Rings Online: Mines of Moria $39.99. From personal experience it isn't easy to get a non-gamer to pick up a PC game and invest time and effort into playing it. Polls show that among those under 18, virtually all of them play games and think of themselves as a "gamer." Video games, like television did a few decades before, looks destined to saturate daily life. But for the slightly older audience, here sits a fun and new way to experience a version of Middle-earth that many readers are passing up.
This is a game that allows a player to create a character in a range of classes or races, as true as possible to Tolkien's Middle-earth. It is called a Massive Multiplayer Online game which means that players interact not only with programmed characters but with many players sitting in places around the world. It is a social game as well as an adventure game and it attempts to create a completely explorable world. Interaction and team work is what makes the game great.
I don't contend that it is Tolkien's Middle-earth but the programmers and makers of the game did put a lot of love and care into the game. Players can learn and make crafts, lore and skills of all kinds. It has a beautiful music application but it dares, with the newest edition, to delve into the fabled Mines of Moria.
I confess to loving the parts of Tolkien's own works that give tidbits about the Dwarven Mines, and admit that I am moved by the visuals alone of the same spot in Peter Jackson's films but in the massive mines only the smallest bits are even shown. So it isn't canonized Tolkien, but what fun to see one team's interpretations while enjoying some action in a beautifully rendered PC environment.
My personal regret about the game is that TORn's own message board and live chat communities haven't embraced it in mass and I can't log on and play with dozens of friends but there is solo fun and the people I do find who wish to partake of Tolkien's world generally are more helpful and for lack of a better word, kind, than other players in similar games. There is much joy, many, many hours of fun to be had in LOTR Online. The game comes with a free month of access but requires a monthly fee afterward and high speed internet. The previous version, "Shadows of Angmar" (included in the complete edition) was named the MMO Game of the Year.
When the first game was pre-release, TORn visited Boston and sat down with the folks at Turbine to really get a feel for the game and gauge expectations and really understand the depth of the game. We really need to write about this game in more depth and probably need to stop by Turbine again. I know if I am in the neighborhood I will definitely be asking them if I can stop by. The game deserves more of our attention.
I think the biggest trick really, is getting non-gamers to try the game. There is something intimidating about playing games, especially for those who haven't used a PC as a gaming source but this is a most user friendly way and place to try.
Please check the system requirements and recommendations. There is nothing worse than a gift somebody can't use because their computer is up to snuff. The game is widely available including big box stores but you can also buy it right here.
There are many more Tolkien-related gifts possible and I suggest stopping by the thread on our message boards to add some of your own, but here are three that may have, and shouldn't have, escaped your notice. Merry Christmas and Happy Holidays!
Posted in Books Publications, Characters, Gaming, J.R.R. Tolkien, John Howe, Merchandise, The Hobbit, Tolkien, Uncategorized, WETA Workshop on December 16, 2008 by MrCere Christmas gift suggestions for Tolkien fans | Discuss