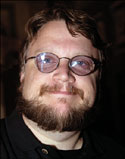 From message board member Isildur's heir: I just received an email from The New Yorker magazine. It seems Guillermo del Toro will be speaking at the Director's Guild of America, as part of the New Yorker Festival, on October 4 at 7:30 p.m. at The Directors Guild of America; 110 West 57th Street. Tickets go on sale Wednesday, so be ready!
Guillermo del Toro talks with Daniel Zalewski on monsters: Guillermo del Toro wrote, directed, and produced the 2006 film "Pan's Labyrinth," which won three Academy Awards and became the highest-grossing Spanish-language film in U.S. box-office history. His other films include "Cronos," "The Devil's Backbone," "Blade II," "Hellboy," and "Hellboy II: The Golden Army." His next project will be a two-film adaptation of J. R. R. Tolkien's "The Hobbit," to be released in 2011 and 2012.
Tickets ($35) available Wednesday, September 17th, at 12 noon E.T., at festival.newyorker.com or by calling 800-440-6974. Tickets will also be sold during Festival weekend at Festival HQ, at Metropolitan Pavilion, 125 West 18th Street, and at the door. Send in your reports if you're lucky enough to go!