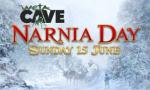 Weta recently opened its "Weta Cave" to give visitors something cool to see when they make the journey to the gentle neighborhood in Wellington where one of the world's most important film special effects houses sits. I visited the Cave a few weeks before it officially opened and believe me, I felt like I was walking sacred movie-production ground. This Sunday the already must-visit destination is the site of a pretty incredible afternoon celebrating the New Zealand release of "Prince Caspian."
The official information from Weta says:
"To celebrate the New Zealand release of Disney's and Walden Media's "The Chronicles Of Narnia: Prince Caspian", Weta has pulled together an exciting afternoon for curious visitors and Narnia fans at the Weta Cave. The programme is FREE and Weta invites everybody to come along and have a great time with Weta artists and craftsmen.
This is a unique opportunity to see what goes into the crafting of the art of Weta and we encourage everyone to drop by and take part in what is set to be an incredible afternoon!
The event is also hot on the heels of the release of "The Crafting Of Narnia" (book) in New Zealand and there will be an opportunity to get purchased copies signed on the day.
Programme:
1pm – 2pm
Book Signing of The Crafting Of Narnia with Richard Taylor and Weta Designers and Technicians
1pm – 4pm
Sculpting demonstration by Weta sculptor Eden Small
2.15pm – 2.45pm &
3.15pm – 3.45pm
Conceptual Design demonstration by Weta Designer Paul Tobin
3pm – 3.30 pm
Meet the swordsmith – Weta swordsmith Peter Lyons shows the swords of Narnia and talks about the art of sword making
– On this day ONLY: Narnia weapons and props on display in the Weta Cave
– An exclusive Weta Cave "behind-the-scenes" video takes you inside Weta
– Art, collectibles and apparel in the Weta Cave
Come and meet the artists and craftspeople who helped bring Narnia to life!