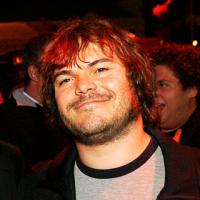 The names of Jack Black, James McAvoy and Daniel Radcliffe were making the rounds in the media this week, as rumors about who will be cast as Bilbo in the upcoming movie of "The Hobbit" begin to fly. According to Black, however, there's no truth to that rumor. Black: "No, no. There's no talk of it," the comic proclaimed, denying the article's validity. Of course, we could have told everyone that, as GDT posted the same thing on our message boards the day the original story came out:
"We will not choose casting until after we finish the scripts. Period. So, no- No talks are bound to take place with any actor to play Bilbo in the near future. Pages come first." And, in another comment: "When its a fact- You'll hear it from me first- and, very likely, right here."
Read and participate in the discussion in this thread on our boards, or in Barliman's chatroom. Thanks to message board member Elven for cluing us in to Black's recent comments which can be found on MTV Movies Blog along with a video of the interview.