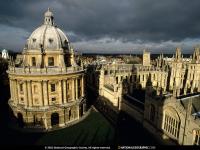 Ringer Forum Member Diedye points us to this intriguing news today from the UK:
A rare collection of books and artefacts will be open to the public for the first time after a £5million donation was made to the famous Bodleian Library at Oxford University.
Original manuscripts from Tolkien's Lord of the Rings and The Hobbit and Mary Shelley's Frankenstein will be among a number of national treasures put on display in a new exhibition hall.
The donation by Julian Blackwell, president of the Blackwell's academic bookshop chain, is the largest yet made to a university library in the UK.
Add that to your tour plans when visiting Oxford! [Read the Full Story] [Bodleian Library Homepage]