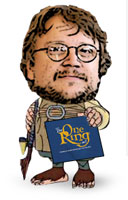 Barring any earth-shattering or unforeseen changes Guillermo del Toro will direct "The Hobbit." However, the contracts are not signed and the deal is not final according to a source close to the film.
In a conversation with TheOneRing.net, the source called it a 99% probability that del Toro would be helming the double picture but in Hollywood nothing is final until it is final. The official announcement, which – New Line Cinema will be eager to make when all the t's are crossed and the i's are dotted – will come after the writer's strike is settled. [Digg This ]
While it is extremely likely that Guillermo del Toro will direct the adaptation of J.R.R. Tolkien's "The Hobbit," and the sequel that acts as a bridge between that work and the epic "Lord of the Rings" movie trilogy, it is not yet set-in-stone official, according to the source. All parties on all sides were excited by the arrangement and were eager to get to work.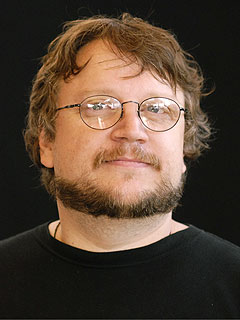 Still, the deal isn't absolutely final. How could it fall apart?
"If the writer's strike went on for another year and people's schedules changed," said the source.
Sam Raimi and del Toro were both in negotiations to direct the film but since the middle of December it looked as though things were going del Toro's way. According to the source after it was obvious that Peter Jackson, who directed the $3 billion "Lord of the Rings" film trilogy, would be too busy to helm the film, New Line felt it wanted as much of the off-camera creative team to be involved as possible and those discussions have taken place with del Toro and New Line. While not legally binding, all parties agree that such an arrangement would be the right choice. Lower level producers and deal-makers in and around New Line had confidence in Raimi but felt that del Toro was the best solution.
"He is an excellent choice," the source said. "He is somebody who has his own vision but will be able to work under Jackson's vision as well."
Born in Mexico, del Toro, would, like Jackson did when he tackled the "Lord of the Rings," triple-film project, bring a film background with strong horror elements in it. He recently directed Academy Award nominee "Pan's Labyrinth," and also has on his resume, "Blade II," and Spanish language ghost story, "The Devil's Backbone."
Del Toro's "Hellboy II: The Golden Army," based on the comic book character created by Mike Mignola, will hit theaters this summer.