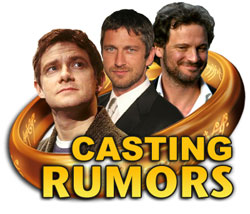 Does it feel like 1999 to anybody else? A strange tickle of excitement has fluttered back into Tolkien fandom with the announcement that New Line Cinema will be going forward with its two-film package centered on J.R.R. Tolkien's "The Hobbit."
For some the feeling is dread, and I recall back in "the good old days" how skeptical I was that anybody could begin to capture on film the beauty and ugliness, the epic grandeur and the domestic tranquility, the fantastic and the familiar of the Middle-earth I had been reading about practically since I first picked up a book.
After a season of discontent and angst, we know that indeed, the whole story of Bilbo Baggins will appear on the silver screen, adapted of course. And while it is much too early to begin casting, it is something fangirls and fanboys just can't help doing on message boards and chat rooms. Despite not having a script, a director or anybody in charge of casting, it is never too early to wonder and hope who might fall into the juicy roles of the film.
Over Labor Day weekend, two of the four TORn founders (Corvar and Calisuri) and I presented at a DragonCon panel, to a packed house, the history of the New Line vs. Jackson saga and our belief that before all was said and done, Jackson would be on board with New Line in a producing role (and I said that a Sam Raimi was a likely director).
We also speculated about some casting choices, some of the guesses informed by insiders who have heard a name or two bandied about for at least consideration for what could be a $2 billion, two-picture deal. Other names are sheer guesses and some are completely obvious, such as this first one:
Gandalf the Grey

Played by the actual Gandalf currently in disguise as a stage and screen actor that goes by the name of Ian McKellen.


Gollum

Need I even mention Andy Serkis owns this role? Didn't think so. Also back is Hugo Weaving as Elrond and in the "bridge movie" it may be useful to bring back Arwen, Galadriel and others from the cast in what I assume are short bits, original actors all. And yes, were it up to me, Legolas would at least walk by the camera, perhaps in the background during a scene with Thranduil.
Thorin Oakenshield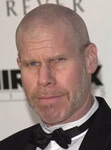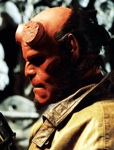 Ron Perlman is experienced and used to acting in heavy makeup.
This took some thinking but after some pondering, the answer finally came. Thorin requires a quality actor who, like John-Rhys Davies as Gimli, will need to act through makeup, be of a certain stature and be both gruff and loveable. The answer? Ron Perlman is The Man and should be The Dwarf as well.
Besides his brilliant turn in "Hellboy" (even if you didn't like the film you can't blame Perlman) he acted as the titular character in television's "Beauty and the Beast." Besides having the right kind of experience and the proper chops, he has some age to him without feeling old, is a consummate professional and from all reports, a good guy to have around the set. If he wasn't so perfect for Thorin he might be a strong candidate for the voice of a dragon as well. Here he is in his Hellboy makeup, which will make Thorin's prosthetics seem tame.
Bard
Handsome and manly yet sensitive and wise; a role for a star or a star-in-the-making for Hollywood. This part will be hotly contested as it may turn a rising star into a risen one and can make an "Orli" out of an unknown or a "King" among actors out of a prince. I want to audition Clive Owen, Gerard Butler,Hugh Jackman and Jim Caviezel. But, I really want Daniel Day-Lewis, one of the finest actors in film, but the man seemingly isn't interested in acting very often and already turned down the role of Aragorn in Jackson's LOTR films. I certainly respect his decisions to be selective about his roles but I hope he would give this one some serious thought. Does it sound like I am begging? Landing any of this group would give the film some serious star power and I feel any of them would do a fine job.
Smaug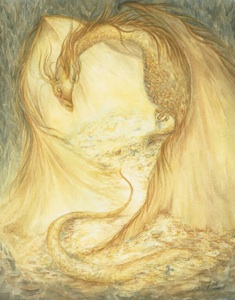 "Smaug" by Goldie Took
One of the most important decisions of the film will be how to handle the talking dragon (that has been often imitated in Hollywood already) without making him seem trite and derivative. Never mind that lots of Hollywood beasties owe a lot to Tolkien's children's story and the Dungeons & Dragons generation that followed it, for WETA this will be a challenge not to turn out just another talking dragon that audiences have seen before.
The art and even cartoon images of Smaug are abundant, including a fine illustration by the author. Jackson, the director and WETA will need to find the balance between making him terrible and horrible and making him conversational. I suspect it is the type of thing Richard Taylor, Joe Letteri and his crew can't wait to get to work on and have probably been thinking about in spare moments, perhaps for years.
MTV.com called for Jeremy Irons to voice the role. I would like to see a decree passed that nobody who has voiced a lion, dragon or Jedi Knight is allowed to even be considered for the role. That eliminates Irons because of his brilliant Scar in "The Lion King." It also eliminates other voices sure to be among the first brought up such as Sean Connery, Liam Neeson and James Earl Jones. Sorry, Smaug shouldn't sound like Darth Vader.
In fact, there is a whole list of interesting actors that could voice the ancient, malevolent worm. The first instinct is to go for a deep or a famous voice and I think famous isn't the right path here. Andy Serkis was cast as Gollum for his talent, not because he was an obvious choice. The biggest requirement is acting chops which translate to voice. The sound of "age" helps.
There is also an abundance of actors who make a living doing voices for animation work. Although often overlooked and never seen, these are supremely talented folks and I would cast the net wide to audition everybody who has the guts to take a crack at it.
A list of interesting suggestions in alphabetical order: James Caan, George Clooney (forget the cool of "Oceans 11" and listen to the beer ads and his work in the documentary "Sand and Sorrow," this guy has a world-class voice), Ossie Davis, Robert De Niro, Vin Diesel (remember "Saving Private Ryan" and listen to him narrate in "Pitch Black"), Edward James Elmos, Morgan Freeman (perhaps too vocally famous), Sir Anthony Hopkins (I can still hear him saying, "Hello Clarice" and so can you, a transcendent actor), Dijmon Hounsou, Ben Kingsley, Paul Newman and Patrick Stewart. If I could, I would audition Diesel, Freeman, Hopkins and Kingsley and would be comfortable with any of them. Any voice would have effects done but before the sound guys go to work. I want the best performance possible to make Smaug so much more than just a monster. I hope the studio and the actor chosen aren't interested in people seeing the film and saying, when they hear the dragon, "Oh, isn't that Actor X?" The audience should be thinking only of the scaly, magnificent lizard. I think my list of auditions would all be able to transcend voice recognition and turn in a performance worthy of the character that spawned 1,000 imitations.
But if I had to pick a guy right now, at this moment, it would be none other than Rodrigo Santoro. In case that doesn't ring a bell, and for most it will not, he is the Brazilian actor who played Xerxes in "300". His voice in the film was obviously enhanced for his role as a demi-God but he sounded amazing. His hint of an accent would even work for Smaug. Give Xerxes a listen with your eyes closed.
Dwarves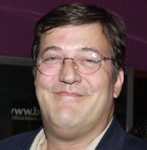 Stephen Fry (Read his blog.)
I could have come up with dozens of possibilities to play the dwarves that act as hostages or complainers during the course of The Hobbit. But the truth is, to me, none of the roles demand any specific actors. Much of how these roles are cast will rest on how they are written and Tolkien left very little information about this crew that will lend itself to a screenplay. There are bits of dialog, a few behaviors and comments about age, but this will take a little juggling. Having the large number of characters with similar names be anything other than a confusing jumble on screen will be a real trick. However, when I see Stephen Fry (blog), I see an actor born to play a Dwarf.
Thranduil
This is actually a rather small part in the book but with a chance for it to be beefed up for the film to give the conflict before and during "the battle of five armies" a little emotional weight. The actor needs to project arrogance and be believable as Elvish royalty. High cheekbones help too. Banned here are rock stars which eliminates any surviving Beatles, David Bowie, Bono or any of the other host of musicians. We will take our actors, not our musicians.
Jason Isaac would be a fine choice and is talked about all over the Web, but he will look a lot like his cinematic Harry Potter role playing a proud, blonde (Elf father of Legolas). The second best name, face and talent package I have heard so far: Joaquin Phoenix which I already know this goes against convention and I imagine a lot of fan opinions. The guy just plain can act. If somebody can convince Johnny Depp to participate in a smallish role he might fit the bill nicely as well. Theater patrons are in danger of major swooning if Depp and Orlando Bloom share a father and son scene. Somebody casting for Disney knew what they were doing when they made that pair. Ralph Fiennes would be my choice if it were left to me today. I wish fervently that I could make this happen.
Beorn


If this role is kept for the film (and I surely hope it is) there are several interesting names. An actor should be able to both jolly and fierce, ferocious and loyal. Brian Blessed is one interesting possibility, a giant of a man (at only 5'9") he is boisterous and royal. (Image 'At Beorn's Hall' – Ted Nasmith)
Bilbo Baggins
I am championing the cause of Martin Freeman first mentioned to me by staffer Deej and a name I have seen around a lot since and perhaps before. Another interesting choice is Colin Firth, and Shia LeBeouf has a lot of traction right now in Hollywood and might pass for a young, curly haired Ian Holm. He is popular enough that he will be unpopular with some on message boards but he has carried a special-effects blockbuster ("Transformers," often the only non-CGI actor in a scene) can definitely act, is highly professional and driven and is not difficult in any way. I agree with a lot of fans, Martin Freeman just seems right.
This will be a fun game to play until the actual casting is slowly announced and leaked by the studio and TheOneRing.net spies. (spymaster@theonering.net, MrCere@theonering.net) This pre-pre-production is a fun time for fans. Feel free to celebrate or trash my choices on our message boards but above all, remember to enjoy the journey! After the pair of Hobbit films, it may be a while before Hollywood plays again in the Tolkien sandbox.