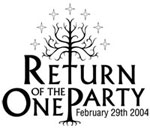 TORN broke the internet yesterday. Sales for 'The Return of the One Party' went on sale at exactly noon PST time yesterday and we sold out in about 15 minutes. This, needless to say, was unexpected. Last year it took us 2 weeks to sell out. We are currently swamped with processing orders.
However we have made it through half of the approvals and people who hav ebeen approved will be receiving an email from TORN in the next day or two. So please be patient.
We have another half to go. If people didn't make the cut off, they will be added to the waiting list in the order they came in and we will email them to update their status. Remember, we all work on this in a volunteer capacity, we all have full time jobs, wives/husbands, or babies/pets. We will get to you soon.
As for double orders, refunds, or anything else please see our FAQ Section or email oscarparty@theonering.net. Please be aware that we will take a while to get back to you.
Thanks!