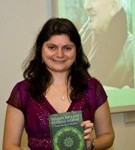 Claire writes: I wanted to let you know about the launch last Friday (28th November) of Dr Dimitra Fimi's new book Tolkien, Race and Cultural History: From Fairies to Hobbits, published by Palgrave Macmillan.
The launch was held at Cardiff University, where Dimitra is an associate lecturer. First a good number of university staff, current and former students of Dimitra's, family, friends, guests and media representatives gathered in one of the university's lecture theatres. Dimitra was introduced and gave a half-hour talk on her book. She explained that it's an exploration of the evolution of Tolkien's mythology within the framework of its cultural and historical context.
Dimitra went on: "My book is a new analysis of Tolkien's mythology, looking at his creative vision from the perspective of cultural history. My main research question was how Tolkien's fiction fits with the cultural and historical milieu of the period he was writing. I wanted to examine Tolkien's work not as a peculiar and idiosyncratic one-off in 20th-century fiction, but as an integral part of it.
"It's high time that academia starts looking at "genre" fiction, like fantasy, SF, crime fiction, etc, in a more serious way, as cultural products of their times and as important factors in the development of literary tastes in the 20th and 21st centuries. I hope that my book contributes to this new trend of re-evaluating in a serious scholarly way "genre" fiction."
After the talk there was a cheese and wine reception, where the attendees had a chance to flick through the book, and order copies if they so wished. They could also get Dimitra's signature, which she said wasn't as elegant or as valuable as Tolkien's, but she did her best!
In the book, in contrast to many previous studies, Tolkien's most popular works (The Hobbit and The Lord of the Rings) are considered as parts of the ever-evolving 'legendarium', and not as independent, self-contained narratives. The book explores the whole corpus of Tolkien's 'legendarium', from his early poems in the 1910s to his latest writings in the early 1970s, including the 12-volume History of Middle-earth series. It addresseskey features of Tolkien's creativity: the centrality of the Elves and the role of linguistic invention in his legendarium, as well as race and material culture in Middle-earth. It is the result of extensive research on Tolkien's unpublished manuscripts and contains several illustrations, including Tolkien's own drawings and sketches.
Dimitra has her own website at http://www.dimitrafimi.com/
Herlecture-based and online courses on Tolkien at Cardiff University incorporate a lot of original research on Tolkien's fiction, now developed and expanded in her book. For more information on available courses you can visit http://www.cardiff.ac.uk/learn/. Details of the next online course, starting in January 2009, are here.
Details of the book, together with a sample chapter, are available on the publisher's site here.
If you can't afford to buythe book, ask a library if it could acquire a copy for you to borrow. It's certainly a must for any academic library!