… and Beren joined his beloved Lúthien in a fate unknown to anyone but Eru.
On Sep. 2, 1973, John Ronald Reuel Tolkien left this world and the Great Story behind. I thought I would commemorate this day with a FLASHBACK to the last days of his life, which, I hope, I can show were not altogether unpleasant (his last hours notwithstanding).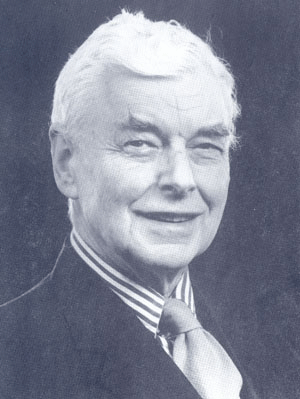 1973
c. July 10-17
Tolkien travels with his daughter Priscilla to Edinburgh, where they stay for a week with his former student Angus McIntosh, now Professor of English, and his wife Barbara.
July 12
An honorary degree of Doctor of Letters is bestowed upon Tolkien by Edinburgh University.
July 20

Tolkien attends an Ad Eundem dinner at St John's College, Cambridge, hosted by Professor Glyn Daniel.
July 26
Lord John Anthony Hardinge Giffard, the third Earl of Halsbury visits Tolkien and they have a pleasant discussion regarding 'The Silmarillion', and Galadriel.
?August
Tolkien has lunch with Father Robert Patrick Ruthven Murray, who later recalls:
Ronald was maintaining with great vigour over the luncheon table that one of the greatest disasters of European history was the fact that the Goths turned Arian: but for that, their languages, just ready to become classical, would have been enriched not only with a great bible version but also, on Byzantine principles, with a vernacular liturgy, which would have served as a model for all the Germanic peoples and would have given them a native Catholicism which would never break apart. And with that he rose and in splendidly sonorous tones declaimed the Our Father in Gothic.
('A Tribute to Tolkien' The Tablet, 15 September 1973)
August
Tolkien adds a note to the typescript of the Annals of Aman about Galadriel fighting in defence of Aqualondë and also writes a rough version of the story of Galadriel and Celeborn, and their motives and actions. This is probably his last writing for the legendarium.
• Marjorie Incledon (Tolkien's cousin) visits and stays with Tolkien.
August 4
Tolkien writes to Lord Halsbury (#353), thanking him for the whisky he is sending:
You pile Weathertop on Erebor, as Bilbo might have said, with your generosities. The whisky will be welcomed whenever it comes: it will be quite safe if sent to college, whether I am here or briefly away. When you retire I shall certainly beg your help. Without it, I begin to feel that I shall never produce any part of The Silmarillion. When you were here July 26, I became again vividly aware of your invigorating effect on me: like a warm fire brought into an old man's room, where he sits cold and unable to muster courage to go out on a journey that his heart desires to make. For over and above all the afflictions and obstacles I have endured since The Lord of the Rings came out, I have lost confidence. May I hope that perhaps, even amid your own trials and the heavy work which must precede your retirement, you could come again before so very long and warm me up again? I particularly desire to hear you read verse again, and especially your own: which you make come alive for me.
August 9
Tolkien visits the Botanic Garden, Oxford, with his grandson Michael George, who photographs him standing next to one of his favorite trees, a Pinus Negra. This is probably the last photograph of Tolkien.

August 17
Tolkien replies to a letter about The Lord of the Rings: 'It is enough for me that people enjoy Lord of the Rings as a story without forming detailed comparisons between Middle-earth and the world today' (Tolkien-George Allen & Unwin archive, HarperCollins).
August 25
Tolkien writes to Glyn Daniel, thanking him for the dinner in Cambridge:
Dear Daniel,
It is a long time since July 20th; but better (I hope) late than never to do what I should have done before being immersed in other matters : to thank you for your delightful dinner in St John's, and especially for your forbearance and great kindness to me personally. It proved a turning point! I suffered no ill effects whatsoever, and have since been able to dispense with most of the diet taboos I had to observe for some six months.
I look forward to the next A.E. dinner, and hope that you will be present,
Yours ever,
Ronald Tolkien.
?Late August
Joy Hill visits Tolkien for what will be the last time. When she arrives, instead of settling down to work, he offers her a drink and then announces that they will go for a long walk to see all his favourite trees. They visit the Botanic Garden, then walk to look at the willows by the river, then return to the Botanic Garden once again. He asks her to bring a camera on her next visit in September so that she can take some photographs for him.
• Tolkien meets Priscilla, who is just back from a holiday in Salsburg. She gives him a bottle of Austrian liqueur and a box of Mozartkugeln.
She will later find, after his death, that he has eaten all of the chocolates, but liqueur remains untouched.
August 28
Tolkien's adventures on this day are told in a letter written to his daughter the following day.
Wed. Aug. 29th 1973
at 22 Little Forest Road, Bournemouth.
Dearest Prisca,
I arrived in B'th about 3.15 yesterday, after a successful drive with most traffic going north not seawards, & a curry-lunch shared by Causier, Mrs C. and David. It was v.v. hot here & crowded. The Cs. Then went off to find 'accommodation' for 2 nights, and departed necessarily with all my luggage on what looked like a hopeless quest. They dropped me off on the East Overcliff by the Miramar, which nostalgically attracted me; but I went into the town & did some shopping, including having a hair trim. I then walked back to the Miramar at 4.45 – and things then began to go wrong. I was told Causier had called to find me about 4 p.m. which made me afraid that he was in difficulties. I also found that I had lost my Bank Card & some money. 'Reception' were surprised but welcoming, comforted me with a good tea. Also assuming that I had been looking for something more than a tea, they told me they could have done nothing at all for me, but for a cancellation which would allow them to take me in on Tuesday Sep. 4 – but I said I would see. I took a taxi to 22 L.F.R. (which promptly lost its way) and arrived late to find the house crowded & lively – only the Dr. was away till evening. (Happy go-lucky folk.) Then I waited anxiously for Causier. It was nearly 7 before he (and Mrs C. & D) turned up – I suspect he too had lost his way – and said it had only taken him 15 mins to find v. g. rooms for 2 nights! In the meanwhile Martin Tolhurst (formerly of N[ew] College), now grown to an immensely tall, charming, and efficient man, had by telephone located my Bank Card etc. at The Red Lion Salisbury. So all was well, for the present. But I have accepted the Miramar offer, and shall not return to Oxford till Sep. 11. For various reasons: the chief being I wish to give Carr plenty of time to clean my rooms, which, and I too, were much neglected latterly; I wish v. much to visit various people here, also Chris Wiseman at Milford, and I am old enough to much prefer familiar surroundings.
My dearest love to you.
Daddy
It is stuffy, sticky, and rainy here at present – but forecasts are more favourable.
August 30
Although Tolkien joins in celebrating Mrs. Tolhurst's birthday, he does not feel well and does not eat much, although he does partake in a little champagne. During the night he is in pain.
August 31
Still in pain, Tolkien is taken to a private hospital, where he is diagnosed as suffering from an acute bleeding gastric ulcer. John and Priscilla are able to make it to his bedside, but Michael is on holiday in Switzerland and Christopher is in France. At any rate, the first reports of his condition are optimistic.
September 1
Tolkien takes a turn for the worse, developing a chest infection.
September 2
On this early Sunday morning, John Ronald Reuel Tolkien dies at the age of 81.
OBITUARIES (complete and snippets)

'Lord of the Rings' author Tolkien dies in Britain
Author J. R. Tolkien, 81, the former Oxford University professor whose stories about a middle earth peopled by imaginary beings became an international student cult in the 1960s, died today.
(click on logo)

J.R.R. Tolkien, Author, Dies
J.R.R. Tolkien, 81, the British scholar and author whose trilogy "The Lord of the Rings," chronicled epic adventure in a fantasy world and achieved vast popularity with college students in the 1960s, died yesterday in England.

Tolkien, Who Created the Hobbits, Dies at 81
J. R. R. Tolkien, a retiring scholar who became the unwilling object of a literary cult because of his novel "Lord of the Rings," died Sunday at the age of 81, his publisher announced.
Thank you, Professor, for giving us such a gift that we can never repay.
God Bless. God Keep.
All info has been collected from Hammond & Scull's "J.R.R. Tolkien Companion & Guide"; "The Letters of J.R.R. Tolkien", "JRR Tolkien: A Biography", TORn and various sites on the web.