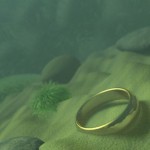 Thanks to Ringer B. Armstrong for sending this in:
WELLINGTON (Reuters) – A New Zealand man has been dubbed the Lord of the Ring after he searched and found his wedding ring more than a year after it slipped off his finger and sank to the sea floor.
The ring was lost for 16 months in the harbor of the country's capital city, Wellington, before Aleki Taumoepeau found it shining on the sea floor, the DominionPost newspaper reported Thursday.
"The whole top surface of the ring was glowing," Taumoepeau, an ecologist, said.
Taumoepeau had been married for just three months when he lost the wedding ring while conducting an environmental sweep of the harbor.
Read the full story at Yahoo! [Read More]