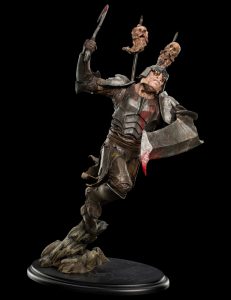 We're just out of Comic-Con and Weta keeps on delivering new and amazing pieces for us fans to add to our collections. One of the things we'd not seen so far from The Hobbit Trilogy line is one of the many soldiers who aide Sauron, Azog, and Bolg. This has been taken care of with the latest release announcement of the Dol Guldur Orc Soldier. This Orc is brutal, with the blood on his armour, as well as the severed Dwarf heads on the pikes on his back. Fans will want to act quickly to grab this Orc as he's limited to only 500 pieces with a price tag of $449.
The other new pre-order continues the Dol Guldur 1:30 Scale Collection. Fans can now add the North Courtyard allowing them to continue to build this scene and giving them more scope to recreate this scene in whatever way they want.  In-line with the South Courtyard this piece will be limited to 500 pieces and comes in at $149.
As you will recall, Weta has been doing questions in intervals and the winner will receive an autographed set of the 1:30 Dol Guldur set. The fifth and final question has just been released – which means the clock is ticking. Get your entries in before August 31 to go in the draw! Enter the Dol Guldur 1:30 Set Contest.